When we were little girls, I fondly remember having a hard time sleeping on the 24th of December.  Before going to bed, it had been part of our tradition to hang our socks in the tree or by the window sill.   My sisters and I all eagerly awaited being called for Noche Buena.  We were children and were therefore more excited to open our Christmas presents than to eat food.  We were also always very excited to check what goodies Santa had left in our socks.
This is another tradition I would like to pass on to my children.  They were much too young to truly appreciate their Christmas stockings last year; but now, aside from being excited for Santa to drop by our house, they are also proud to see their Christmas stockings hanging by our window.  Mainly because they helped decorate them!
Hubby and I bought these Do-It-Yourself Christmas Ornaments on sale for Php 250 for two boxes at the Toy Kingdom sale a month ago.  Each box contained pre-cut felt patterns, glittery thread, safety needle (made of plastic and with a blunt tip) and instructions on how to create the ornaments.  This craft activity is so easy to do you won't even need to read the instructions if you already know how to sew.
This craft was also a great "lacing" exercise for my toddlers.  They took turns helping me sew the patterns together.  There was no danger of being pricked by the needle as the tip was blunt so I let them do the sewing while I held the pieces together.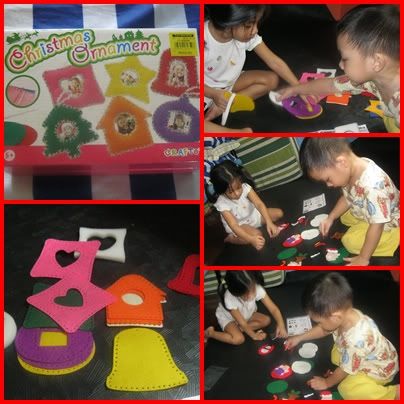 The ornaments were actually designed to be hung on the Christmas tree but we used them to decorate our stockings instead.
It was truly great fun creating our own Christmas decors! Next year, we might try to get some of those paint-your-own decors sets.