I remember writing about depression several months ago when two separate incidents of crimes of passion occurred just a few days apart. I mentioned in my post some signs that indicate depression and necessitate professional help. Now, I'm no expert in that field and was just sharing what I have learned from others. Some have told me that cannabis such as charlotte's web strain canada cannabis can help support those with depression but again this is all anecdotal. I am glad though that more of that much-needed professional help is available nowadays which anyone should seek if they are struggling.
Last Monday, I was fortunate enough to have met some experts in the field of parenting and relationships who more than willingly help those who seek counselling or coaching. Over Bo's Coffee and Sandwiches and Taters' Potato Chips, Ms. Maribel Dionisio, Rowie Matti, and Fides Reyes shared with us their vision of helping educate families about relationships and love.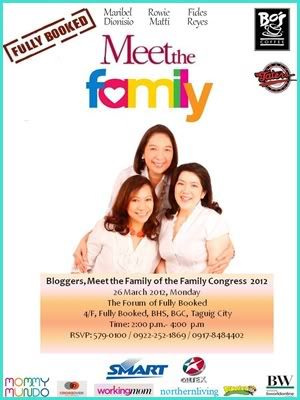 Ms. Fides Reyes, a PR and events organizer, shared with us a riveting story about a family's struggle with the behavioral problems of one of the children. Ms. Rowie Matti, CEO of the Galileo Enrichment Learning Program, couldn't have been more right when she said that we parents should not wait for a problem to happen before getting help. Early intervention may be most advisable but prevention definitely would be best.
Now, how do we prevent behavioral problems? Do we shelter our children from the outside world? We don't have to isolate them from all the negative influences outside our homes, we just have to instill in them the proper values. But that is easier said than done! Ms. Maribel Dionisio, an esteemed parenting and relationship expert, gave us a rundown of the ABC's of Parenting that can help us raise healthy, physically and emotionally, and confident children.
Attention Giving. Have weekly dates with each child and make it a fun time to get to know each other more.

Building Self-Worth. Affirm, Acknowledge, and Encourage positive traits and good deeds.

Communicate Regularly & Well. Listen to your child. Mind your tone of voice. A friendly tone would get your point across more than a harsh one.

Disciplining With Love. To discipline means to teach and instruct not to threaten and punish.

Enhance Couple or Individual. Words of affirmation and loving acts never fail to make one's spouse feel loved.
Two hours really wasn't enough to fully grasp everything that I needed to work on as a parent to ensure that my children grow up as productive members of our society. Moreover, I realized that my husband should be with me during these seminars if we are to properly resolve our differences in parenting styles. Thus, I urged him to come join me at the Family Congress 2012.
The Family Congress 2012 was organized by Maribel Dionisio, Fides Reyes, and Rowie Matti to equip individuals with knowledge and skills needed for different relationship stages. It will be held from 8am to 5pm on August 25 at the Valle Verde Country Club in Pasig City. My husband and I will definitely be signing up for session 6P – Being Friends Forever in Marriage: Learning the Art of Fighting.
It was really an enriching afternoon meeting the "family" behind the Family Congress 2012. I had a wonderful time too chatting with moms over snacks and refreshments from Taters and Bo's Coffee at The Forum in Fully Booked. Aside from more parenting knowledge, I also went home laden with gift certificates from Binalot and Galileo Enrichment Program, a Mommy Mundo planner, and a book authored by Ms. Maribel Dionisio. How's that for one truly delightful afternoon?!