Pampering need not be exclusive to those born with a silver spoon. La Reine Nail and Day Spa provides pampering services that are accessible and affordable even to those who are on a tight budget. In need of a pedicure? You only need to shell out 50 pesos for a Royale Pedicure which already comes with a Therapeutic Massage. How's that for a bargain?!
Moreover, you get to enjoy these affordable services with the same quality service and relaxing ambience other nail spas offer at exorbitant prices. Moms like me who are concerned about the household budget need not worry about spending too much on pampering. At La Reine, we can feel like queens without having to spend a fortune.
This is exactly what I and several other mommy bloggers were treated to a couple of weeks ago – a Royale Pampering for the queens of the households. We had the entire spa to ourselves and had a wonderful time chatting about anything and everything while our feet got some much needed pampering. This is such a welcome respite as we all are often busy running the household, running after our kids, and running our own businesses.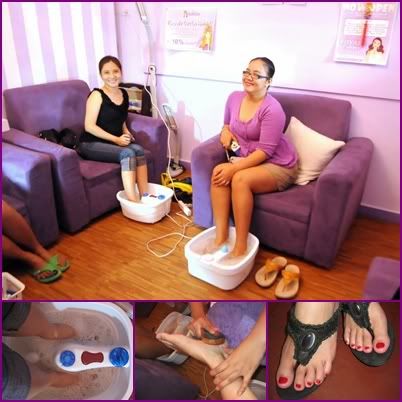 La Reine's offers hand spas and foot spas ranging from Php 99 to 200. Massages range from Php80 – 299, Waxing from Php 100 – 250, and Eyelash Extensions from Php 300 – 400. You can check out all the services they offer in their Facebook Page. Click on "like" while you're at it. 😀
La Reine also offers a Franchise Package to those who'd like to invest in their own Nail and Day Spa. With an initial investment of Php 250,000, you'll have a fully operational business inclusive of customized furniture and lighting, trained staff, initial stocks and so much more. Share the company's mission of creating a warm and welcoming environment for all by setting up your very own La Reine Nail and Day Spa in your area.
As much as I want to grab this lucrative business opportunity, I already have my hands full now and would have to wait until the little ones are of school-age before I start any business venture.  For now, I'll just relish being one satisfied customer of La Reine Nail and Day Spa.  I can't wait for their Marikina branch to open!
*********
La Reine Nail and Day Spa is located at #17 Annapolis Street, Cubao, Quezon City with branches opening soon in Marikina City and in Laguna. Call 966-0086 or 0917-5727530 to book a pampering appointment or to ask about their franchise packages.