"I'm proud to have YOU as my Mom!"
What Mom wouldn't be touched to hear her child say this? Well, my heart grew fond of Matthew when he said those very words to his mom, Dyan Castillejo-Garcia. Our country's celebrated sports icon has not only displayed excellence in sports but also in parenting. Her only son, Matthew, is proof enough of how great Dyan is as a mom. A precocious nine-year-old who's active in sports and other extracurricular activities, Matthew's schedule almost rivals his Mom's hectic schedule.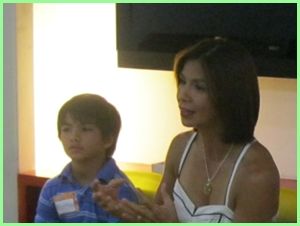 Asked how she's able to ensure that Matthew gets all the nutrients he needs to keep him in the pink of health, Dyan says that Matthew is mainly given healthy food choices. Though they allow him a treat once in a while, about eighty percent of what Matthew consumes is healthy food. Also, Matthew loves to drink Easy Pha-max Wheatgrass Honey and takes Easy Pha-max Whea-Gee Chewables.
There are hosts of nutritional supplements and vitamins around but no matter how good they are for our children, they'll just be money down the drain if we can't get our children to take them. Was I mighty glad then that my little ones liked Easy Pha-max Whea-Gee chewables when I first brought a bottle home! One bottle costs 850 pesos, so if my kids refused to take any after their first taste, it would have been such a waste of money. They do taste pretty good actually. Yes, I tasted the Whea-Gee myself, and the chewables have a milky taste with a slight aftertaste of wheatgrass. It kinda reminds me of a milk candy we used to eat when we were young.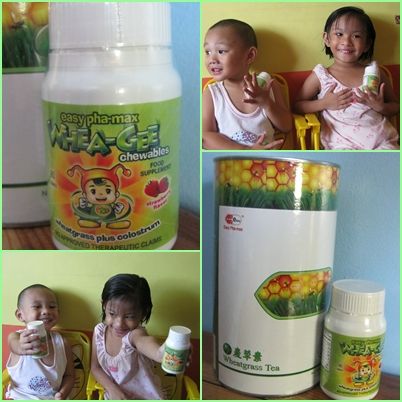 Aside from tasting like candy and being sold in a bottle with an eye-catching design, Easy Pha-max Whea-Gee chewables is packed with nutrients from Wheatgrass and Colostrum. Wheatgrass detoxifies the blood, promotes blood circulation, protects against cell damage, counters acidity from processed food and other unhealthy food, and helps the body function efficiently. It is packed with 13 vitamins, 10 minerals, 17 amino acids, chlorophyll, fiber, and more than 100 types of enzymes. Whew! That's really a lot! To ensure that our children achieve optimal growth and development, Easy Pha-max Whea-Gee chewables is also laden with Colostrum that boosts the immune system and fights off disease-causing organisms. Colostrum is also rich in protein that promotes muscle and tissue development – just perfect for our children's growing years.
When my children see the bottle of Whea-Gee when they wake up in the morning, you'll often hear them say, "Mama, look! There's my Whea-Gee. May I have it now?" I'll let you in on a little secret…I take Whea-Gees myself. Shhh…don't tell the kids Mama's sharing the bottle with them. Tee-hee!
*****
Easy-PhaMax Whea-Gee Chewables are available in bottles of 90 tablets for 850 pesos. They are available in major drugstores and supermarkets and are also sold in Easy Pha-max kiosks in leading malls. For more information, you may call the hotline 890-1111 or their toll-free number 1-800-10-890-1111. To place your orders online, just log on to www.wheatgrasscan.com.