A couple of weeks ago, we received a wonderful gift from Richwell, a box of cute Zoobles!  We have seen these cute collectibles in stores but have not bought one for the kids because they were still toddlers.  Jade is turning 4 though in a month's time and Jakei has long stopped putting toys in his mouth so this is a perfect time to test the toy out.
Zoobles is one of the hottest collectibles for kids because of their unique pop-open feature and cute designs. Each Zooble is different from one another from their colors to their Happitats. This year, the family grows with the Zoobles Mama and Baby collection. Even though the Zoobles are a bunch of magical creatures, they still need help as babies. The Zoobles Mama cares for her baby in fun ways. Each Zoobles baby is called a Zoobling and fits perfectly inside their Mama's belly! Mama can care for her baby anywhere she rolls.

Each Zoobles Mama and Baby set comes with a unique Zoobling accessory such as a cradle or a baby walker with their little toys. It also comes with a magnetic pad, the Happitat, where Zoobles Mama pops open!
We received the Zoobles Teeter and Totter Collection which came with a Mama Zooble (Teeter #168), a Baby Zoobling (Totter), a Happitat magnetic pad, a baby walker, and two li'l baby accessories.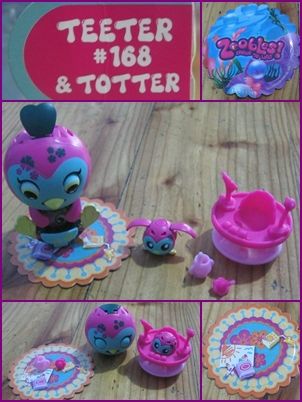 Aside from the unique pop-open feature and their totally cute designs, we love the Zoobles because they are able to help our children develop varied skills.
Handling the tiny pieces develops fine motor skills.  Your little ones must have great control of their tiny fingers to place the Zoobling inside the Mama Zooble. The same goes for taking outof the Mama Zooble's tummy and placing it in its walker.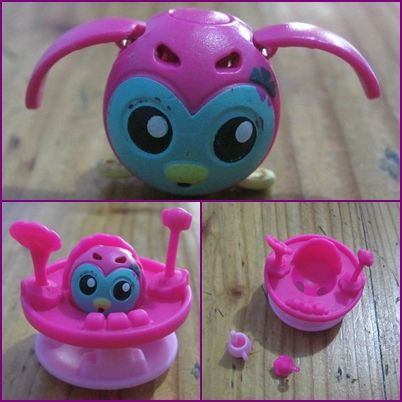 The pop-open features teach them about cause and effect.  My little daughter doesn't try to pry open the balled up Mama Zooble anymore.  She now knows that she'll pop out once she's placed in her Happitat.  When she wants the Baby Zooble to walk, she also knows that all she needs to do is to press the tiny button on its head to make the feet and the ears pop out.
Zoobles is among the many toys that encourages imaginative play.  Though she has since made up different stories about Teeter and Totter,  my four-year-old's story several minutes after opening the box is most memorable for me: "So, there's the Mama Zooble and you put her in the Happitat like that (motioning downward). Then she'll go up like this, Pop!  Then the Baby Zoobling will be inside her tummy.  You put the Baby Zoobling in the…uhm, what's that, Mama? The one that I had when I was a baby?  … You put the Baby Zoobling in the cradle and she'll play there with her toys.  When she's tired, Mama Zooble will put her back inside her tummy and they'll sleep na."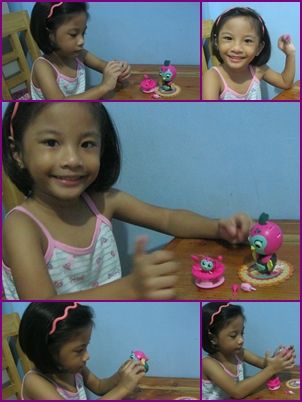 One downside of playing with this Zoobles is that my little girl started asking why she couldn't go back inside MY tummy again. LOL!  well, seeing how she likes playing with her Mama Zooble and Baby Zoobling,  I think I'm getting my little girl a Dazzle Doo for her birthday next month.  This one will cultivate her creativity as it will allow her to design and style her very own Zooble.
*********
Zoobles is exclusively distributed by Europlay Distributor Company, Inc. Available at all leading toy stores and department stores nationwide. For more information, call Europlay at telephone number 732-5141 to 47 loc 211. www.richwell.net
Richwell Trading Corporation is also the distributor of  Mattel Toys:  Barbie, Hot Wheels, Matchbox, Polly Pocket,  Uno, Scrabble, Pictionary;  Mega Brands:    Mega Bloks,, Rose Art ;  V –Tech Toys;  Zoobles;  Oregon Scientific;   Chicco;   Shelcore;  Step 2; and Goodyear Tires Servitek

// <![CDATA[
nuffnang_bid = "d175e9992140cd6109378c3f2c1efb2b";
document.write( "
" );
(function() {
var nn = document.createElement('script'); nn.type = 'text/javascript';
nn.src = 'http://synad2.nuffnang.com.ph/lr.js';
var s = document.getElementsByTagName('script')[0]; s.parentNode.insertBefore(nn, s.nextSibling);
})();
// ]]>