The little ones just turned three and four and since they just started school this year, we decided to celebrate their birthdays in school.  Their birthdays are only two weeks apart so it was more practical to hold just one celebration for both their birthdays.
They requested for a Jake and the Neverland Pirates cake which meant that dear Mama had to create snacks in the same theme.  I know everything doesn't have to follow a specific theme, but it'll definitely be better if we did have one.
The thing about themed parties though is that the cost can be quite steep. However, this was not going to be a full-blown party.  All we needed to do was prepare some snacks for 50 of their classmates. Sounds easy, right? Uhm…it wasn't but we managed fairly well.
First on our list was the cake which had to be ordered right away since we only had a little over a week to prepare for the party.  Good thing, PH Bakehouse accommodated our request and was able to deliver a wonderful themed cake on D-Day.
Next was the menu.  We didn't want to prepare anything messy so we opted for just hotdogs, fries and mini-cupcakes.  To match the theme, we turned the hotdogs into Pirate Ships using pretzel sticks for the mast and paper for the sails.  Then we fried some Tater Bucks and Crinkle Cut Fries to complete the snack box.  Mini cupcakes came from the ever reliable and accessible Shoppersville Bakeshoppe.  My kids love Dutchmill yogurt drink so this was what we served their classmates.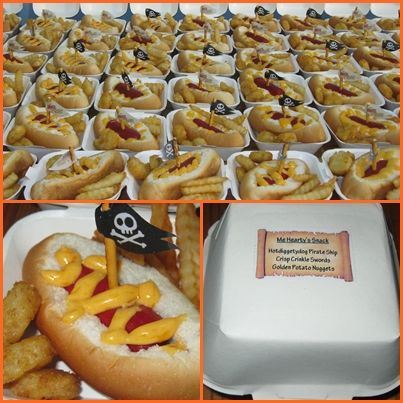 Each pirate was given Pieces of Eight for their share of the loot.  Gold doubloons (Chocolate coins)in colorful pouches were handed out to their classmates.  I was supposed to print out Pirate-themed activity books but lacked time.  The little ones were easy to please and were quite happy with their chocolate coins.
The big question now is how much did we spend?  Would you believe we spent less than 5000 pesos.  That's less than 100 pesos for each child.  Here's the complete breakdown of our expenses:
INVITATIONS:
Parchment Paper (24.50/pack of 10) x 2 = 49.00
SNACKS:
Jake and The Neverland Pirates Cake from PH Bakehouse = 1,200.00
Mini-cupcakes from Shoppersville Bakeshoppe = 325.00
CDO Bibbo Chubby (P 165/pack) x 2 = 330.00
Magnolia Cheezee Squeezee (P 65.50/pouch) x 3 = 199.50
Crinkle Cut Fries (124/kilo) = 196.67
Tater Bucks (168/kilo) = 236.88
GAP Biscuit Sticks (16.50/buy 1 take 1) = 16.50
Dutchmill Yogurt (8.50/90ml) x 60 = 510.00
Golden Swan Container (P 34.75/pack of 10s) = 173.75
LOOT BAG:
Pouches (P6 each) x 50 = 280.00 (with 20 pesos discount)
Goya Choco Coins (P 169.50/pack of 100s) = 678.00
The snacks were simple but having a theme to unify them all made it extra special.  My two little kids enjoyed their Jake and the Neverland Pirates party which is more than enough to make my hubby and I glad.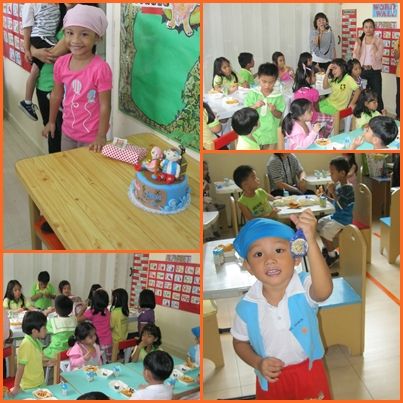 nuffnang_bid = "d175e9992140cd6109378c3f2c1efb2b";