School's almost over and many have started to plan for their summer getaways.  Among the most popular summer destinations in the country is Tagaytay mainly because of its cool climate and scenic destinations.  Add to that its proximity to the metro and the dozens of available lodgings in the area. Last December, we spent two full days in Tagaytay and stayed at The Potter's Ridge for a night.
Schedule was tight so I only had two days to look for hotel accommodations and to plan our itinerary.  It was also peak season so hotel rooms were getting booked by the second.  Fortunately, I was able to book the last two rooms in The Potter's Ridge that were available at Agoda.com.  I've read a couple of good reviews about the hotel which is why I chose to book our rooms there.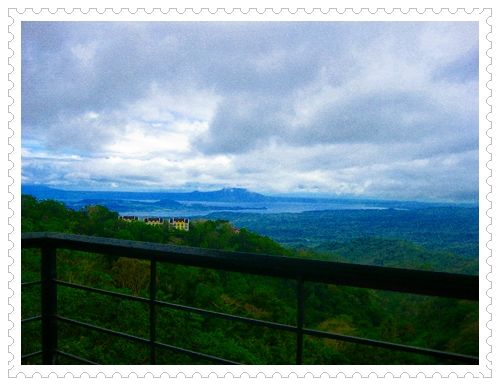 We drove to Tagaytay on a rainy Thursday morning with cold mist surrounding most of the highlands.  My little Jakei kept raising his hand and saying, "I'm touching the clouds!"  Check-in was still at 12 noon so we spent the entire morning visiting churches in the area.  My mother is a devout Catholic and the trip was really to grant her wish of visiting churches in Tagaytay. After a disappointing lunch at Leslie's, we went straight to Potter's Ridge to rest for a while before we set off to visit more churches.
From the main highway, Potter's Ridge is located on the left side of the highway going to Batangas.   Only the top two floors are seen from the road so it looks more like a small restaurant at first glance.  There's definitely more to it though as the rest of the hotel is strategically built along the side of the ridge.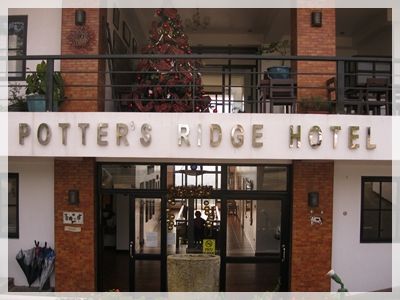 Since the hotel is located right at the ridge, you get a spectacular view of the lake and Taal Volcano.  We were ushered to our room which had a very rustic appeal to it.   The canopied bed and wooden furnishings all give it a quaint air.   The room would be absolutely perfect for newlyweds or couples looking for a romantic weekend getaway.  What I loved the most about our room were the picture windows that provided a spectacular view of the lake and the lush greenery along the ridge.
The weather – and the place – was so conducive for sleeping that we all ended up taking a very long nap the rest of the afternoon.  We wanted to try one of the local restos along the ridge but ended up hopping from one place to another in a futile search for crispy tawilis.  An obscure roadside diner was finally chosen where we food was relatively fine but horribly overpriced.  It was already 9pm when we went back to Potter's Ridge.   Restaurant Zoe on the top floor closes at 10pm, so I had an hour to finish some writing assignments and share a cup of hot chocolate  and a slice of Baked Alaska with everyone.
Friday morning was a sight to behold!  We woke up with cold mist blowing into our open window that it felt like we were in the clouds. It was really hard getting up from bed when all I wanted to do was stay there all day. Kids had to be fed though and we did promise Mom we'd go to Calaruega, so with heavy feet, I trudged to the hotel's cozy cafe.
Hubby and little Jak were already eating their breakfast when we arrived. Hubby ordered chicken adobo which looked really yummy while the little boy had pork schnitzel. My mother also ordered the chicken adobo which I wanted as well.  Unfortunately, the one for mom was already the last serving so I ended up ordering the longganisa instead.  It tasted just fine save for the measly serving.  Another piece of longganisa would have made it just the right serving.   Overall, our breakfast was nothing spectacular but was fairly satisfactory. It was enough to fuel our morning stroll in Calaruega.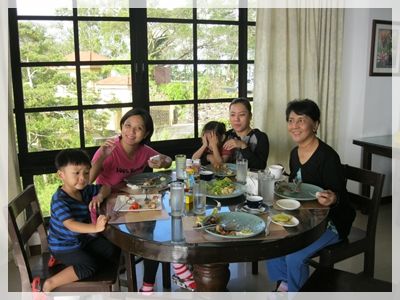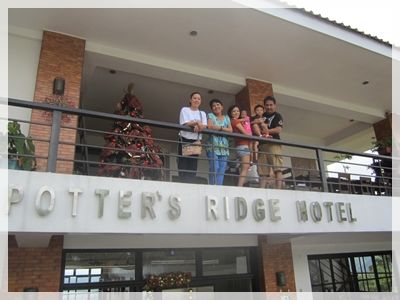 The Potter's Ridge would be a welcome haven for those who are looking for a cozy and quiet place to stay.  Though the kids found the place wonderful, I think the hotel would be more perfect for couples looking for a quiet place to have some quality time together.  It would be wonderful if my husband and I could go back here for another honeymoon for our 5th anniversary.  😉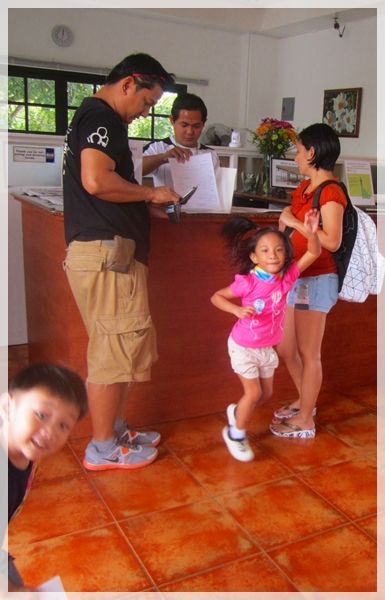 Thank you to the very friendly and accommodating concierge, Clark, for making our stay pleasant and thank you to the hotel staff for accommodating all our requests.   We'll do consider Potter's Ridge when we want to spend the night in Tagaytay again.
###
The Potter's Ridge is located along the Tagaytay ridge on the main road of KM 67 Aguinaldo National Highway.   It's about an hour or two's drive from Manila and is also accessible via public transport.   Room rates range from Php 3,100 to Php 7,500/night.  For more information and inquiries, visit their website at http://pottersridge.net or call +63 (46)4130368 or +63 919.4629897.  You may also send an email to info@pottersridge.net.