Thank you for all the likes and follows, mommies!  Babypalooza, BabyCloset, Mamabella, and I appreciate your taking time to join our giveaway. Without further ado, here are the winners of the Babypalooza Giveaway!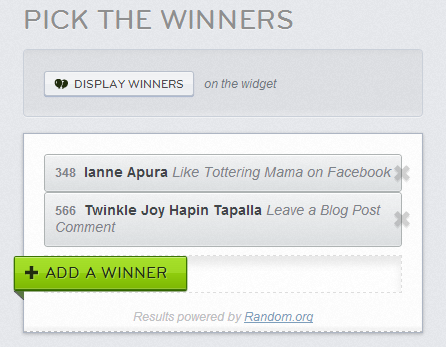 Congratulations, Ianne!  You'll be receiving the gift pack from Baby Closet PH.
Fisher Price Brilliant Basics Rock-a-stack
Carter's Minnie shoe socks
H&M pink dress
Congratulations to you too, Twinkle! I'm sure you'll look lovely in the Nursing Poncho from Mamabella Nursing and Maternity Wear.
Ianne and Twinkle, will send you an email with instructions on how to claim your prizes.
To those who didn't win, don't feel blue if you didn't get a prize.  All these goods and more are available at the Babypalooza Bazaar on the 17th.   I can't wait to see what other great products will be offered then.  See you at the Babypalooza Bazaar!