"Mama, where's my Champs?"

"Mama, can I have my Champs now?"

"Mama, after I finish this will you give me my Champs?"
I am telling you, my kids have never looked forward to taking their vitamins more than they do with Champs.   Other than really awful tasting antibiotics, vitamins and other medicines are easy to give to my little ones.  Just hand them the medicine cup and they'd dutifully take their medicine or vitamins.  What makes Champs different from their previous vitamins is that they themselves are the ones who ask for it.
CHAMPS Chewable Vitamins
One of the flagship brands of the largest generic company in Malaysia, Chemical Company of Malaysia (CCM), CHAMPS is a variety of multivitamin preparations formulated to address specific needs of various segments of the pediatric age group.  Through Champs, CCM is able to advocate health and wellness by providing medicines that are effective but affordable.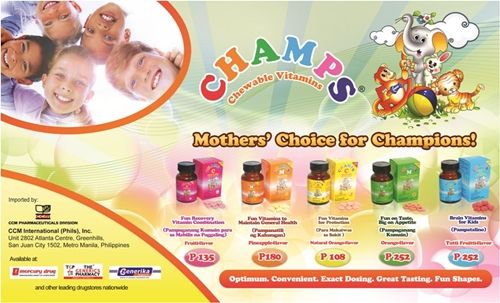 Kids Love CHAMPS
With their fun shapes and tasty flavors, CHAMPS Chewable Vitamins makes taking vitamins really fun for children.  As I've mentioned, my kids look forward to taking their Champs during dinner.  Of course, before I gave the vitamins to my little ones my husband and I tasted the vitamins first.  The Champs C + Lysine tastes real sweet which makes it my fave.  The Champs Omega-3 Plus tastes similar but leaves a slight fishy aftertaste.
Jade is the sickly one whose weight is always at the bottom of the weight curve so we've been giving her the Champs C + Lysine.  She has only been taking it for a couple of weeks but we've already noticed a boost in appetite.  Her cheeks are starting to get fuller which means she's gaining a bit of weight already.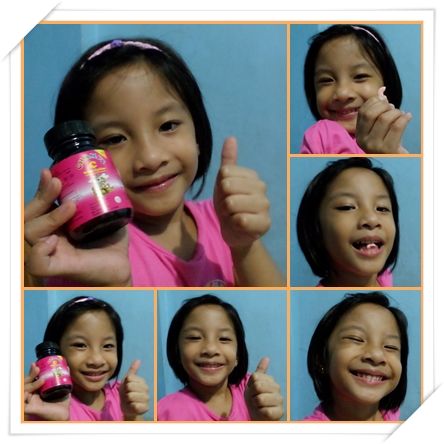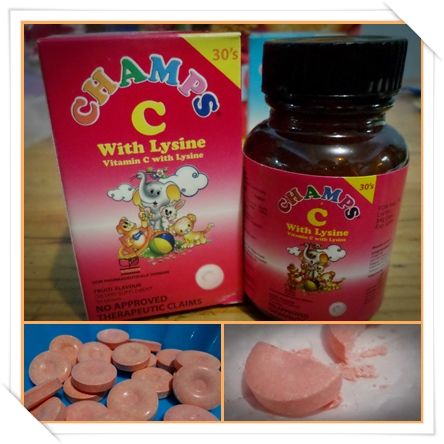 The Champs Omega-3 Plus is what we're giving Jakei.  Brain development is difficult to measure so we won't really know how effective the vitamins are but anything that would boost mind power is fine for us.  This variant has a fishy aftertaste but my little Jakei doesn't seem to mind it as he still loves taking his "heart Champs".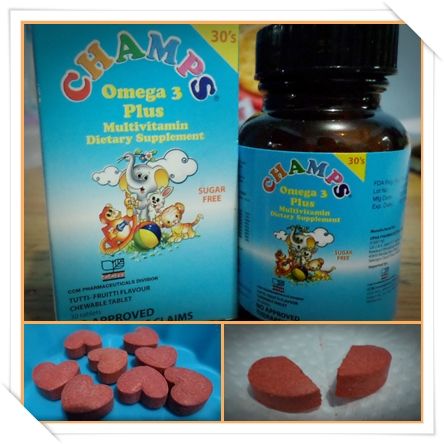 There's a CHAMPS Just for You
CHAMPS Chewable vitamins come in five variants which are:
Champs C (Fun Vitamins for Protection) – heart-shaped orange-flavored chewtabs that contain Vitamin C (Calcium Ascorbate and Sodium Ascorbate) for protection against common illnesses. ½ tab provides 140% of RDA of Vitamin C for children.
Champs C + Lysine (Fun Recovery Vitamin Combination) – donut-shaped tutti-frutti flavoured chewtabs that enhance appetite during sickness for fast recovery.  Contains Vitamin C (Ascorbic Acid) and Lysine Hydrochloride.
Champs M (Fun Vitamins to Maintain General Health) – triangle-shaped pineapple-flavored multivitamins that promote general health.  One chewtab a day gives you more than 100% RDA of Vitamins A, E, C, and B12.  It also provides other essential dietary nutrients including Vitamins D, B1, B2, B6, and B3.
Champs M + Lysine (Fun on Taste, Big on Appetite) – donut-shaped, orange-flavored chew tabs that contain 9 essential dietary nutrients (vitamins A, D, C, E, B1, B2, B6, B12, B3), lysine, and folic acid.  This is the Champs for picky eaters in need for a great boost in appetite.
Champs Omega 3-Plus (Brain Vitamins for Kids) – heart-shaped tutti-frutti flavores chewtabs that contain 9 essential dietary nutrients (vitamins A, D, C, E, B1, B2, B6, B12, B3) and Omega-3 from natural fish oil.  This variant boosts brain development and performance helping your kids be academic champs.
Some variants contain Aspartame and use food additives like Ponceau 4R and FD&C Yellow No 6 so you may want to check the label first if you're sensitive to any of these ingredients.
CHAMPS is Budget-Friendly
I did the Math and found out that at as low as P 1.80 per day, your child can have a vitamin boost already.  A 30-tab bottle of Champs C costs only P108. A child needs only ½ a tablet a day to meet his RDA of Vitamin C.   Even the priciest among all the variants, Champs M + Lysine, costs only P252 per bottle of 30 tabs.  That's just still P 8.40 / day.
Champs C – P 108
Champs C + Lysine – P 135
Champs M – P 180
Champs M + Lysine – P252
Champs Omega-3 Plus – P252
Instead of buying your child a small bag of chips, give him some Champs!  It's not only healthful, it's also cheaper than junk food.
CHAMPS Giveaway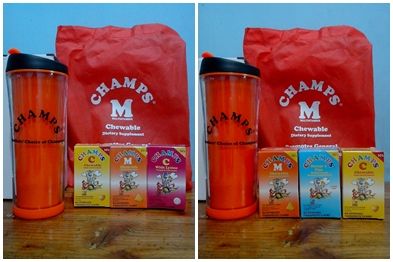 Since CCM was gracious enough to have sent me packages of CHAMPS Chewable Vitamins, I'm sharing some of them with you.  Two of the Tottering Mama's readers will each get a gift pack with 3 Champs Chewable vitamins, a CHAMPS Tumbler, and a Toys R' Us P100 GC for your little one.  Submit your entries through the Rafflecopter below: