Academic enrichment programs have become so popular nowadays with parents willing to shell a couple of thousands a month per subject per child just to ensure that their children have that edge in school.  Many of these programs enhance children's math or reading skills by providing them a series of worksheets that need to be answered every day.  Although there are a host of free printables available on the net, most parents don't have time to search for them and to print them on a daily basis.
Understanding how difficult it is to juggle work and family life, HP just made it easier for us parents to be directly involved with our children's academic journey. Through HP Deskjet Ink Advantage Printers, we can now print high-quality content from free education apps such as the SAP Education Print App and the onSponge Learning Print App.
Premium Education Content for Young Learners
HP has collaborated with Singapore Asia Publishers(SAP) and onSponge to allow users direct access to assessment and test content.  This free service allows us parents to print educational materials that encourage good study habits through daily practice.  The SAP Education Print App offers English, Math, and Science content which can be scheduled for print out on a daily or weekly basis.
The onSponge Learning Print App provides a series of problem sums for primary students.  These practice sums help develop a child's reasoning abilities and hone his problem-solving skills.  Even parents who dread Math would find this app very useful as step-by-step solutions to the problems are also available at the onSponge website.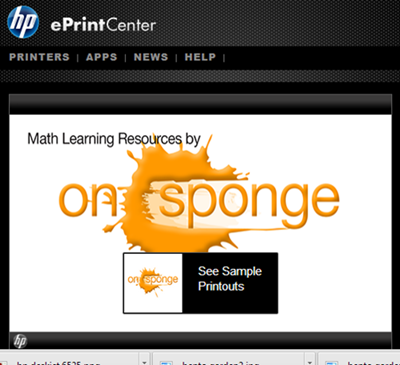 Aside from being easily accessible, these education print apps provide us parents the convenience of just needing an hour or two during the weekend to schedule the printing of daily practice exercises for the coming week.  At the specified time and date, the HP Deskjet Ink Advantage printer prints out the materials for the day.   And even if you have forgotten to schedule the material for today, you can still have it printed remotely.  Oh yes, you can print materials in your home printer even when you are working in your office miles away!
Endless Possibilities through HP Ink Advantage
HP web-connected printers have access to a wide range of mobile printing solutions.  HP ePrint, HP wireless direct, and HP Printer Control are just some of HP's mobile solutions that allow users to print from virtually anywhere, anytime, and from various mobile devices.
The HP ePrint Center provides calendar templates and other forms to help professionals stay organized.  There are recipes,  checklists, photo albums, coloring pages, and game pages to help a homemakers job much easier.  Family, business, marketing, home, travel – name it and there'd most likely be a downloadable printable for it at the HP ePrint Center.  The best thing is that most of these are free of charge.
Practical and Economical
Unlike a decade ago when printer inks cost exorbitantly high, Original HP Inks are now much more affordable.  The prices are so reasonable that there really is no reason to use alternatives.  Besides, with an Original HP ink, you get to have high-quality prints without worrying about printer damage, messy leaks, and clogged cartridges.  If you compare the money you'll shell out for an HP Deskjet Ink Advantage Printer, ink cartridges, and internet connection, it will still be much lower than what you'd be paying for in an academic enrichment program.  Moreover, there's so much more you can print using other useful apps available through HP mobile solutions.
I'm really all sold on the new HP Deskjet Ink Advantage Printers that I'm soon saying goodbye to my five-year-old HP Deskjet 910.