Are you excited to see what the 3rd Babypalooza Bazaar has to offer on the 17th? To give you a peek, two wonderful Babypalooza vendors are giving away gift packs to two of The Tottering Mama's readers.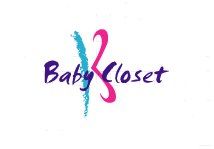 From Baby Closet PH, one lucky mom's little baby will enjoy playing with a Fisher Price Brilliant Basics Rock-a-Stack and will be delighted to wear new Carter's Minnie Shoe Socks and an H&M pink dress.  These are just some of the huge selection of affordable but quality products for mommies and babies offered by Babycloset.ph.  You can check out more of the toys, clothes, and other goods they offer in their online shopping site.
Moms would definitely love this versatile nursing cover from Mamabella Nursing and Maternity Wear.  This poncho-like cover allows mommies to breastfeed their babies whenever, wherever!  Not breastfeeding anymore?  You can still use this cover as a scarf, a head covering,  blankie for baby, or to secure baby to a highchair or push cart. You can even use it as a poncho over a sexy tank top.  How's that for versatility?
Looking for high-quality maternity and nursing wear and products?  Mamabella carries a great line of  imported but affordable nursing/maternity bras, maternity-to-nursing tops, and maternity wear which promises comfort and functionality for the expectant or nursing mom. Mamabella also carries a wide array of products useful during breastfeeding such as nursing covers, washable breast pads, breast milk storage bags and storage bottles.
We aim to provide moms and moms-to-be more great options for their breastfeeding needs. Breastfeeding is my personal advocacy and we at Mamabella wish to encourage more moms to live the lifestyle by providing affordability, comfort and functionality.
I wouldn't ask anymore if you want to have the BabyCloset gift pack or the nursing cover from Mamabella  coz I know – positively, absolutely know – that you do!  Just follow the instructions on the Rafflecopter below for a chance to win these prizes.  This giveaway is open nationwide (as long as courier-accessible) and will end on August 9.  Winners will be announced on August 10.
In case you've forgotten the details I posted about the Babypalooza Bazaar, here's the press release for the event:
Babypalooza Bazaar

Date & Time:  August 17, 2013; 10 a.m. to 7 p.m.

Venue: Walter Hogan Conference Center, ISO, Ateneo de Manila University, QC campus.

Now on its 3rd run, the Babypalooza bazaar will still highlight the same features that made the first 2 bazaars unique and successful: equal exposure for both PRE-LOVED (i.e. gently used) and BRAND NEW items for babies, young children and expectant parents.

The Babypalooza Vendor Protection Program (VPP) will still be enforced to ensure that no two vendors of brand new items will be selling the exact same thing. This helps ensure that shoppers will not get bored from seeing the same merchandise over and over. Items that will be sold are necessities of parents and their children: clothing, shoes and accessories, gear, strollers/baby furniture, feeding bottles, nursing wear, breast pumps, skin care and cleaning products.  Yummy, drool-worthy food products will also be sold during bazaar hours. All these at negotiable, easy-on-the-pocket prices!

To continue providing a family-friendly bazaar experience, special function areas will still be available for free for all visitors, these are the following: Sulit breastfeeding station, The Maya Kitchen play area, 88DB Daddy Waiting Lounge and the Mega Soft diaper change area. This event is also graced by the participation of WhenInManila.com as one of its online media partners.

Clean rest rooms are also just a few steps away from the bazaar stalls for added convenience.

Venue is fully air-conditioned. FREE parking and entrance.♥

For more information, visit www.babypalooza.com.ph  or www.facebook.com/babypalooza.com.ph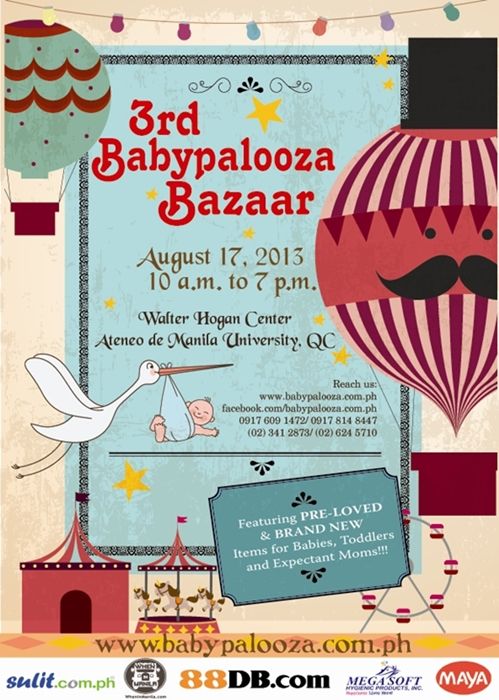 ###
You may also want to join another giveaway. Get a chance to win an ELECTROLUX Steam Iron and IKEA products at http://totteringmama.com/2013/07/clean-your-wash-loads-of-love-with-electrolux-time-manager.html.