You know that pair of flip flops whose design has already faded and whose soles are already much thinner than when you first bought them?  I'm sure many can relate to having an old pair of slippers that you can't just seem to part with no matter how worn out it is.  I have such a pair I use at home.  I've been using them for a few years now that the footbed has already molded itself into the exact shape of my foot.  And I guess that must be the reason why it has become so comfortable to use.  This pair of flip flops I'm talking about is a Banana Peel.  I have been using it for so many years that I can't even remember what the design was.
Well, my trusty ole Banana Peels now has new companions.  A couple of weeks ago, a quaint little woven basket with four pairs of flip flops were delivered to our home.  Hooray for new Banana Peels for my daughter and I!
Banana Peel sent me an orange and blue pair from their Happy Chic line and a printed lilac pair from the So Fresh collection.  I have plenty of orange shirts so the Happy Chic pair would go well with plenty of my outfits.  The So Fresh lilac has a dainty print that makes me feel all girly – even in my late 30s.  🙂 As with my old pair, my new slippers are very comfortable and light on the feet.  They would need a few more uses to have that same perfect-on-my-feet feel as my old one.
For the little girl, Banana Peel sent pairs from the Pink-A-Boo and Poshies Collection.  The girl was gushing over the embellishments and wanted to wear them right away.  She likes the pink and black combination of the Pink-A-Boo pair and loves the cute little ribbons on the straps.  She favors this pair more than the other one.  The one from the Poshies pair was what she used during her Pista ng Bayan presentation in school.  The little orange flower fell off (uhm… or was 'accidentally' pulled) during their rehearsals but we were able to glue it back on. If she can dance – and jump – with her Banana Peels, she can do anything with them on.
Why We Love Banana Peel
Aside from being very comfortable and affordable, they are proudly Philippine-made!  There are a host of foreign brands in the market but we try to support Pinoy-made products as much as we can.  More than that, we love that they use only eco-friendly and child-safe materials.  There's even a sticker that comes with every pair assuring us that they are made from 100% rubber and are earth friendly.
Where to Buy Them
There are around 25 branches in the country where you can purchase Banana Peel flip flops.  They are also available in major department stores nationwide.  For more convenience, you can also order online through bananapeel.net.  Shipping costs from Php 160 – 22n0 for up to four pairs of slippers.  To save on shipping cost, you may opt to pick your orders up from selected branches.  Or just order 1500 worth of products to avail of free shipping.
Flip Flops for the Family
Flip flops are our everyday footwear.  We wear them at home and at the beach and even when going to the park, to the mall…we wear them everywhere.  With Banana Peel's wide range of collections for men, women and kids, there's definitely a pair for each member of the family.
For Papa
For Mama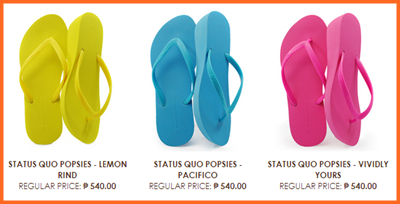 For the Little Miss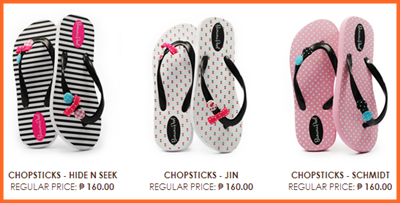 For the Active Boy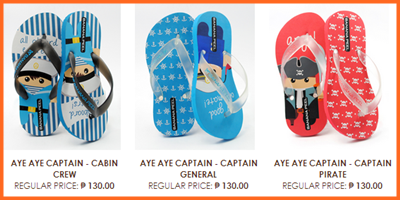 These flip flops will most certainly be a part of our adventures at home or outside.  Oh and my old Banana Peels, I'm still keeping them!