On one of our trips to the bookstore, I was pleasantly surprised when my little Jakei chose two Adarna books instead of the usual movie-based books he loves to read.  His two choices, May Higante sa Aming Bahay and Mister Beetles Many Rooms, are written by Filipino authors in both the English and Filipino Languages. Both books have wonderful illustrations by Filipino artists as well.
May Higante sa Aming Bahay is written by Rhandee Garlitos who has won various awards for his poems and stories for children.  The illustrations are done by PBBY Illustrator's Prize awardee Ferdinand Guevara.
The story is about how anxious a little boy was about the coming of a higante(giant) in the house.  Fearful as he was, Matt-Matt couldn't understand why his mother and siblings were all excitedly looking forward to the giant's homecoming.  Many children of Overseas Filipino Workers, especially those who were still very young when their parents left to work abroad, can relate to this story.
I think my little Jakei took this book off the shelf when he read the word "higante" thinking it was a story of adventure.  Nonetheless, he loves reading the book both in English and in Filipino.  Somehow at his tender age, he has learned also to appreciate that he sees his Papa everyday.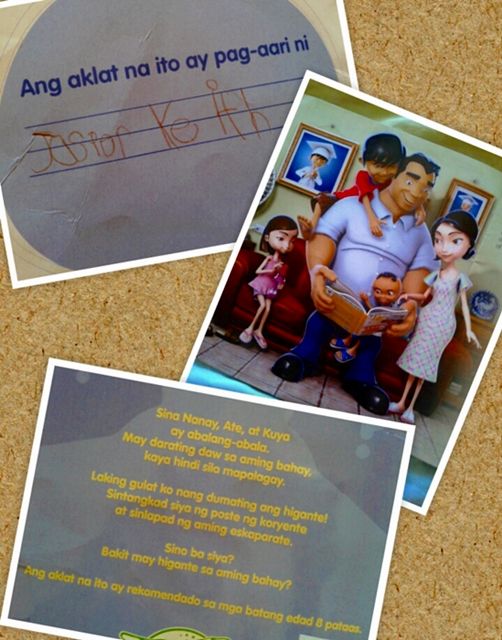 May Higante sa Aming Bahay is recommend for children age 8 and above but my kids (age 4 & 5) can appreciate the story already so I would still recommend it to even younger kids.  If you are an OFW family, this book would be a great addition to your children's bookshelf.