Remember the bookstore trip where Jakei chose books written by Filipino authors?   Here's the other book that he chose, Mister Beetle's Many Rooms.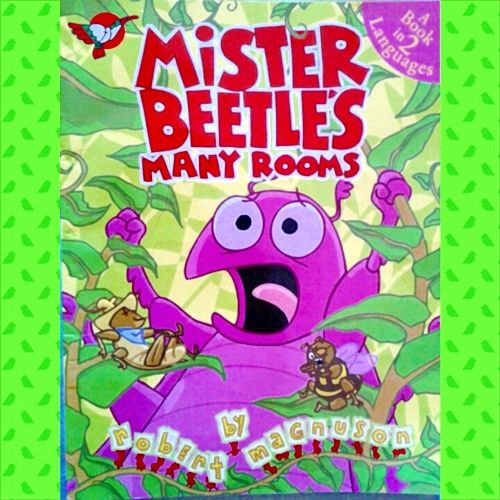 With the colorful illustrations created by the author Robert Magnuson, Mister Beetle's Many Rooms easily captures the attention of young readers. The story is about a beetle who chose a tiny plant with five leaves (rooms) to live in.  Mister Beetle soon finds more and more insects living in his plant and set off to discover where all the new leaves are coming from.  Unable to stop the plant from growing into a tree, he set off to find another home where he can live peacefully by himself.  He had a change of heart though when his "neighbors" threw a surprise party for him to show their appreciation for his founding their home.
The book is a great springboard for discussions on relating with other people, appreciating your neighbors, and caring for the environment.  At the end of the story is a one-page feature of how plants grow.  The kids were studying plants in school when we bought this, so it was the perfect supplement for their lesson in school.
The book also comes in two languages, English and Filipino.  If your child is still struggling with his Filipino subject, this and other Adarna books would be of great help in developing their skills in Pagbasa.  It is recommended for children ages 10 and above, but, as with May Higante sa Aming Bahay, even younger children would enjoy reading the story.