Well, I do remember studying about money in high school. We were taught to count money and change as early as first grade. We also had business math in high school and we had those investment problems in algebra. So, yeah, in a way we were taught money in high school.  But, like the authors of I Wish They Taught Money in High School, I wish they did teach us how to apply all those "word problems" in real life. If somebody had taught me how the stock market worked in high school or even how to invest in mutual funds, I'd have made a fortune by now!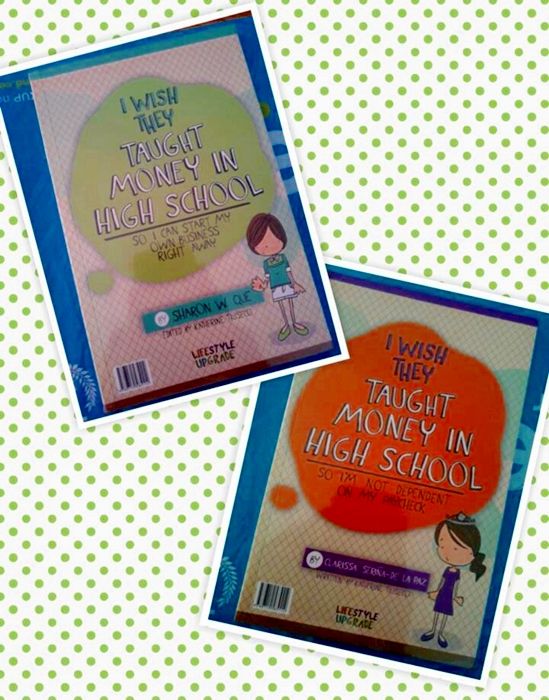 The book, I Wish They Taught Money in High School, comes in two parts written by Sharon Que and by Clarissa Serina-de la Paz. Both authors share their respective money journeys with Sharon Que focusing on entrepreneurship and Clarissa Serina-de la Paz focusing on investments. Both debunk the myth that you have to be rich to start a business or to have investments. Their personal narratives and the quirky illustrations by GooglyGooeys.com make the book a light yet very informative read.
No One's Too Young to Start a Business
In my generation, kids were supposed to focus on their studies and leave money-making to their parents. Prior to being gainfully employed after college, all our expenses were funded from allowances given by our parents. Ms. Que though shares with us how she, as a young child, was already exposed to the rigors of business. This early exposure to entrepreneurship has paved the way for her early success in the field of business.   Yes, she was already a young entrepreneur at age 10. 🙂 In the book, she encourages us to start a business and turn it into a way of life. She also shares with us how to be an entrepreneur without shelling out any capital. The book also provides you with a step-by-step guide for registering your business.
From Working for Money to Making Money Work for You
Clarissa Serina-dela Paz on the other hand shares her money journey as a fulltime employee. She gives very helpful advice on how to make your money work for you. Those who slave in the office only to have paychecks barely last a second in their hands would be wise to take Ms. Clarissa's advice.
Specific and Attainable Goals for Financial Freedom
Both authors espouse goal setting to achieve financial freedom. They do not claim to make you millionaires overnight but share doable ways on how you can grow your wealth even with meager resources. Though most of their recommendations can also be found in other online sites and books, it still is inspiring to hear their personal success stories. Unlike books written by financial experts, these two books do not contain highly technical terms that make our heads dizzy. They provide concrete ways – the very same ones they used – to achieve financial freedom. I Wish They Taught Money in High School is highly suggested for those who want to grow their money but have no idea where and how to start.