Our eldest Jade will be turning six next school year so our quest for big school has started mid of last year.  Since we wanted both kids to be in the same school, we narrowed down our choices to co-ed schools that offered kindergarten to high school classes.  First on our list is the Diliman Preparatory School.  It's a bit far from our house but I like their curriculum specifically their Science program.  I mean, they offer Robotics in grade school – how cool is that! They also balance academics with extra-curricular activities for holistic development.  They encourage their students to excel in academics and to hone their talents through various sports, music, and arts program offered after classes.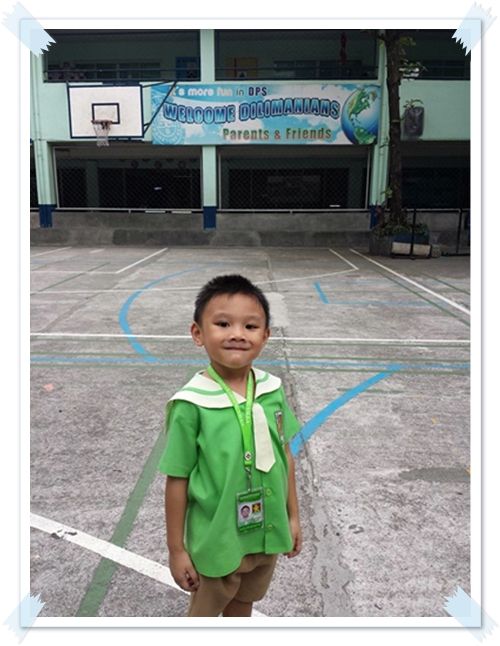 Quick Facts About Diliman Preparatory School
Diliman Prep  is a coeducational private school that offers kindergarten, elementary, and high school courses (K to 12).
It was founded in 1969 by a group of educators from the University of the Philippines.  Now, former senator Nikki Coseteng serves as DPS President.
The main campus is located along Commonwealth Avenue in Quezon City.  They have another campus located along Mindanao Avenue also in Quezon City.
It has a swimming pool, two Gyms, AVR, Auditorium, and libraries among its modern learning facilities.
The school is committed to draw out the genius in every child.
Feedback from Other Parents
I also browsed the net for feedback from other parents.  Although there were many who boast of the school's thrust on academic excellence and holistic development, there were also some who find the demands of the school too stressful for their children.  Among the complaints I read were that kids always had too much homework and that school hours were very long especially for the young children.
Entrance Examination: Requirements and Feedback
Schedule of Entrance Examination/Assessment is on Monday, Wednesday, and Friday from 8-11am and 1-4pm.  You only need to bring 4pcs 1×1 ID picture, NSO Birth Certificate(original & photocopy), and Report Card(original & photocopy).   Foreign applicants need photocopies of their passport and visa.  Examination fees are P600 for Filipinos and P750 for foreigners. When we submitted the requirements last December, we were informed that the kids could have their tests on the same day.
Feedback on Grade 1 Entrance Exam.  Jade took the test for incoming Grade 1 students and was just given her test paper and instructions then left to answer on her own inside a cubicle.  She was also given instructions to call out when she needed help with the test but basically had to answer the questions without help.  This is probably why they asked us first if she was already proficient in reading and writing prior to accepting our application form.  After the test, they asked us to wait a few minutes for the result.  Jade passed with a score of 82%.  We were also showed the test paper where I noted that some of the topics have not been tackled in their current school yet.  The Math part already included two-digit addition and subtraction with and without re-grouping.  There were also a couple of word problems.  Jade had the lowest score in Filipino where she was tasked to read a story (Pagbasa) and answer questions to check her comprehension.  She was able to read the story but was unable to understand it due to her limited Filipino vocabulary. She made up for low scores in these two areas with outstanding scores in Grammar, Reading Comprehension, and Science.
Feedback on Prep Entrance Exam.   Jakei's exam for Prep was guided by a teacher.  It took only about 30-45 minutes to finish the assessment and we were also given the result just a few minutes after.  He also passed with a score of 83%.  Like his sister, he had the lowest score in Filipino where he failed to answer two sections. One required him to write the unang katinig/patinig and the other to write the unang patinig.  Good thing he was able to read the Filipino word list though.  He also fared low in Math for being unable to answer the addition and subtraction problems. Science involved determining whether an item was living and non-living. They have not tackled these lessons in school yet.  Like his sister also, he passed mainly because he was already a proficient reader and did well in Language and Reading.
Interview with the Principal.  After receiving the results, we were asked to proceed to the Principal's office for a short interview.  Of course, this mom eavesdropped while the kids were being interviewed. 😛 I heard the Principal asking Jakei why he wanted to go to Diliman Prep, to which he answered, "I like robots! I want to learn how to make them."  Both kids were asked about their current school, friends, hobbies, and family.  After the kids' interview, the Principal congratulated us for having smart kids and told us the school would be glad to have them.
Diliman Preparatory School is really on top of our list but we're still considering a few other schools.  Though we love the curriculum, distance is another factor we have to consider.  With light traffic, it takes 30 minutes to drive from our home to the school. With heavy early morning traffic, it might take us twice as long.
Tuition Fees
Annual tuition fees this school year is P 63,761 for Grade 1 and P 61,967 for Prep.  They also have semi-annual, quarterly, and monthly modes of payment.  The monthly mode requires down payment of 30K+ and monthly payments of 4K+.   They do offer sibling discounts for the 3rd and 4th children.
###
Disclosure:  I am not connected with Diliman Preparatory School in any way.  All information above comes from their website and brochures, from various forums in the net, and from personal experience.  For more inquiries, please call the school's admission office at 931-0731 loc 850.