A wedding is a special occasion worth celebrating. From the engagement to the actual ceremony, it takes a lot of preparation to get ready for the wedding ceremony. There are floral arrangements, seating charts, cake flavors, decorations, dresses, and tuxedos, one must consider before the big day. With so much to consider anyone offering a solution is welcomed into the experience. JenJenHouse is no exception. Not only do they provide wedding attire for the bride, but for other members of the bridal party like the flower girl.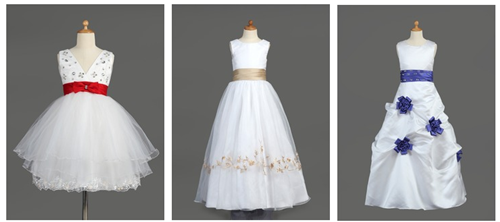 The flower girl is an important part of the actual ceremony. She is responsible for laying down the floral patterns that the bride will walk on, on her way to the groom. She must look extra special as she will walk right before the bride. JenJenHouse provides awesome dresses for the flower girl in your wedding. Most of the designs feature white dresses accented with colored belts, most of which are shades of red and orange. Dress also come in other colors. Royal purple, reds, and blue are common among the line. The patterns are few and far between, as the dresses are fairly simple. There are some pastel color dress and most embellishments are elegant bows and floral bows.
Organza and taffeta are commonly used fabrics among their flower girl dresses. There are close to 70 dresses that feature some beading and thirty with lace details. Any little girl would be happy to wear one of these featured gowns. All the gowns compliment the bride and other members of the bridal party on the big day. Along with looking elegant the prices are reasonable all gowns are under two hundred dollars, with most being between one hundred and one hundred fifty dollars. There are some dresses that are under eighty which makes it very affordable for any bride.