I never thought that I'd say this about a children's book but Horrid Henry is off our bookshelf and is never going back on it. I don't even want to give it to another child. It's horrible, horrid, horrendous.
The story starts with Henry being excited for his birthday and his parents dreading that same day. Throughout the story, we read about the horrible things Henry does to his family and everyone else.  I wouldn't mind reading a book about a mischievous boy but this one does not end with any resolution or consequence for Henry's actions.  He actually gets away with all his mischief.  It ends with a picture of Henry with an evil grin and the lines "But Henry didn't care. They said that every year." 🙁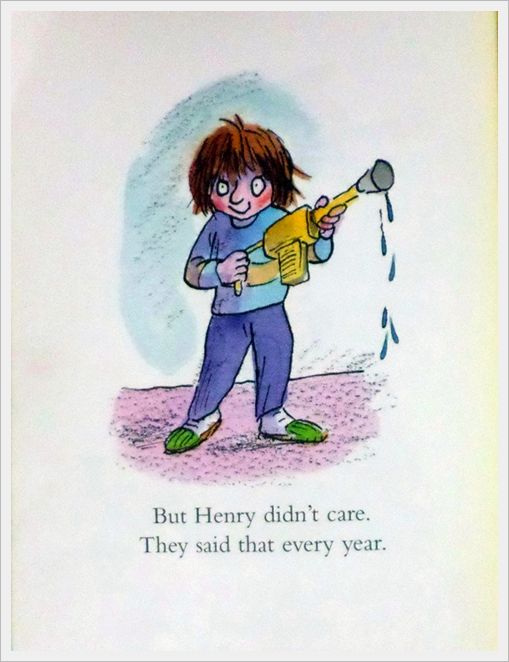 I've not allowed my kids to read this book as they are at a very impressionable age. They might think that it's fine to do naughty things like Henry does. I wouldn't have minded if the story ended with Horrid Henry learning the consequences of his actions but this story ended with his getting away with his naughtiness. Not really a very good example for very young kids.
Would I recommend this book to others?

No, no, and no!
Before I had time to publish this post, I spotted a girl reading a Horrid Henry book while waiting for her mom in a salon.  I couldn't help asking her how she found the book and if she was a frequent reader of Horrid Henry. Horrid Henry Rocks is 9-yr-old Rachel's first Horrid Henry book. The book consists of four different stories, and like the one I've read, Henry gets away with horrid behaviour in each one of them. I asked Rachel if she feels that she could also get away with mischief just like Henry, she said that she knows she won't because the story was just fiction and that in real life, her mom wouldn't ever let her get away with the things Henry does. When asked if she enjoyed reading the stories and if she would want to buy another Horrid Henry, she just said, "Maybe. I don't know."
Although the nine-year-old girl was able to distinguish fiction from real life and was not in any way encouraged to imitate Henry's ill-behaviour, I'd still keep this book away from our bookshelves.