Hooray!!!  We're finally seeing more of Mr. Sun after more than a week of intermittent rain showers!  Here's something else to brighten your days the entire rainy month of August – the Robinsons Red Hot Sale!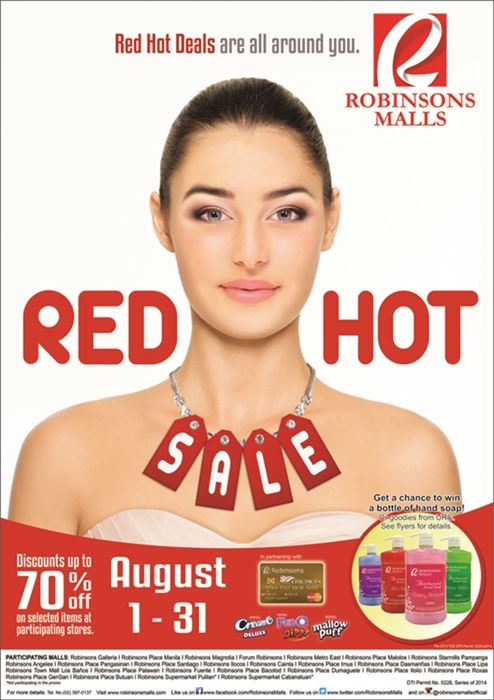 On one of my very rare mom-me-time, I was able to go to Robinsons Galleria on the first weekend of the Red Hot Sale. I was able to check out furniture, kids' apparel, jewelry, eyeglasses, clothes, and shoes. Here's a rundown of some shops I checked out and my fab finds:
Freeway/Ensemble
This goes first on my list since this was where I got my best (read: most budget-friendly) finds.  See the bolero with a design by Vicente Manansala on it? Would you believe that I got it for only P99.50?! It was further marked down from its tag price of P199.  Such a steal, really!  Even if you're on a tight budget, you could still update your wardrobe with blouses that go as low as P 199.50 and dresses at P599.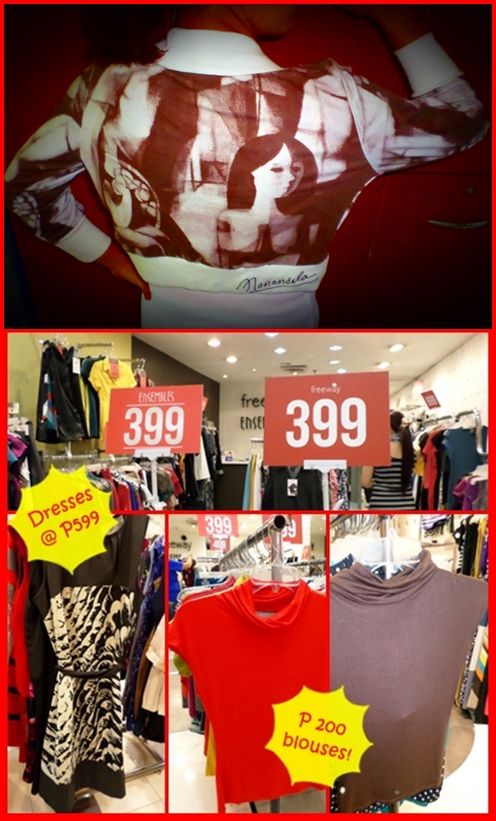 Unica Hija
Though not all items are on sale, you'll still be able to find stylish blouses at 50% off.  Blouses on sale range from P 395 to P 595. I also saw several slacks on sale one of which I really wanted to try on but was short on time.  I hope it'll still be there when I go back next weekend. It's not often you get a good pair of slacks for only 500 pesos.
Karimadon
In need of more dresses?  Check out their sale rack.  The blue shift dress with matching bolero is not at only P599 – down by more than 50% from its original price of P1999.  If you have a little more extra shopping money, you may want to grab one of their latest designs as well.  🙂  And speaking of design, Karimadon also has an ongoing contest where you can stand to win up to P10,000 and to see your design in Karimadon's Holiday Collection.  Check out www.facebook.com/karimadon/fashion for more details.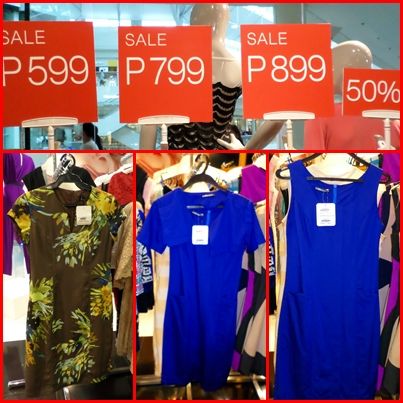 ResToeRun
P500 for comfy colourful Marie Claire wedges!!! Need I say more?  I'm sure that'll have you running to ResToeRun already. Stocks are limited so better run fast.  I would have grabbed a couple of pairs but they, unfortunately, did not have them in size 5 (boo-hoo).  Also on sale are Salvatos foldable flip flops which now cost only P300. In case you get caught in a heavy downpour, having a pair of these would save your precious stilettos.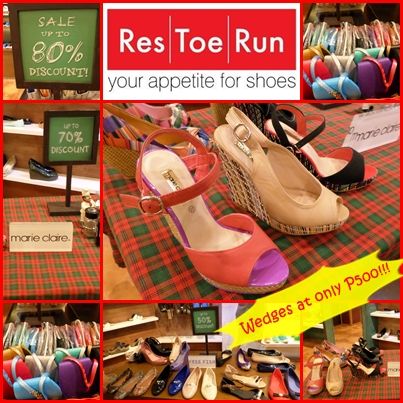 I was also able to check out Chez Le Furne, Sarabia Optical, OshKosh B'Gosh, Mothercare, and Toys 'R Us. If I hadn't promised hubby and the kids a movie treat that afternoon, I'd have probably scoured every shop in the mall. J Visit Tottering Mama again next week to see what I fab sale items I found from those stores.
I'm pretty sure you're also now excited to check out what's on Red Hot Sale.  Before you head to your fave Robinson Mall, add more mileage to your shopping fund by joining Robinsons contest on Instagram.  It's a simple share and tag contest that might score you some GCs.  (link to instagram) After shopping, drop by the Robinsons Red Hot Sale booth for a chance to win a bottle of hand soap or goodies from URC.
Don't let the rainy season dampen your spirit.  Check out the Robinsons Red Hot Sale to look fabulously hot despite the gloomy weather.  🙂
###
The Robinsons Red Hot Sale runs from August 1 to 31 in the following participating malls:
Robinsons Galleria
Robinsons Place Manila
Robinsons Magnolia
Forum Robinsons
Robinsons Metro East
Robinsons Place Malolos
Robinsons Starmills
Robinsons Angeles
Robinsons Place Pangasinan
Robinsons Place Santiago
Robinsons Ilocos
Robinsons Cainta
Robinsons Place Imus
Robinsons Place Dasmarinas
Robinsons Place Lipa
Robinsons Town Mall Los Banos
Robinsons Place Palawan
Robinsons Fuente
Robinsons Place Bacolod
Robinsons Place Dumaguete
Robinsons Place Iloilo
Robinsons Place Roxas
Robinsons Place Gensan
Robinsons Place Butuan
Robinsons Supermarket Pulilan
Robinsons Supermarket Cabanatuan
Don't wanna miss out on big sales and exciting promos? Follow Robinsons Malls at
facebook.com/RobinsonsMalls
twitter.com/RobinsonsMalls
instagram.com/RobinsonsMallsofficial