If you see me a few pounds heavier than you last saw me, blame it on the 10-peso sandwiches! 😀
I've been selling sandwiches in front of our house for almost a month now.  They're not fancy sandwiches, just plain ol' ham, cheese, and egg sandwiches.  What made me decide to set up a snack table despite already having my hands full with ghostwriting, blogging, tutoring, and housechores?! I'm also asking myself that question!!! (Giving myself a big face palm as well!)
Seriously, I saw the market for sandwiches.  Since the kids started school and took the school service, I found myself waiting by our door for an hour before noon and another hour in the mid-afternoon.  During those times, workers from a nearby cemetery and mechanics from a car shop would flock the sari-sari store beside our house for snacks.  Most of the time, they would just buy biscuits or a peanut butter sandwich (the only variant that the store sells).  This was when I broached the subject of opening a small sandwich store to my husband.  Ever supportive of my undertakings, he bought me a small plastic cabinet and a panini grill.
With handwritten signages and a plastic kitchen cabinet as stand, my little sandwich store looks like it was set-up by kids for a weekend sale.  One customer actually asked me if our store was a school project. 🙂 Add to that, our sandwiches cost only P10.  Since my target market are hard-working laborers who barely earn minimum wage, I decided to keep my profit margin small.  Ideally, food items must be sold with a markup of at least 100%.  Obviously, mine is much lower than that. Nevertheless, I'm happy to be earning even just a little 'coz I'm able to provide others with affordable snacks.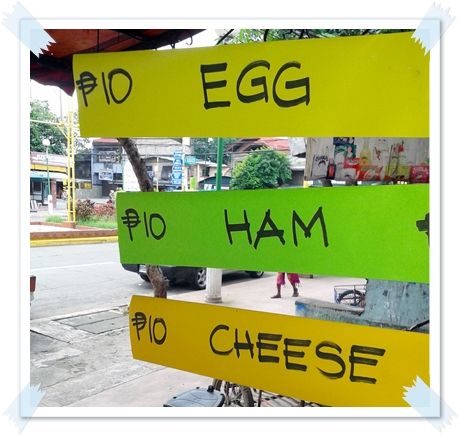 Aside from supplementing the family budget, we also learn a lot from selling sandwiches.
My kids learn to count money.  All our sandwiches are sold at only P10. Cupcakes and cake slices are at P5 each.  My little girl already knows how to skip count by 5s and 10s so she's able to help me count money or give change.  The little boy's still learning to do that but he can be tasked to get P10, P5, or P1 coins from the coin jar.
My kids learn the value of hard work. They know that the money in the jar doesn't  just magically appear.  They know that Mama has to go to the market to buy ingredients, cook the ham and egg, prepare the sandwiches, and man the store.
I get a glimpsed of the outside world. 🙂  Sometimes when no one's buying, I stop tapping on my keyboard and eavesdrop on the conversations outside.  So very impolite, I know, but some conversations are quite amusing. And for someone who has been cooped home most of the time for the last six years, I find it quite enjoyable interacting with people from all walks of life.
I learn to be humble.  There's something very humbling about selling 10-peso sandwiches.  Here I am, in a t-shirt and a pair of shorts, selling sandwiches and whatnots while most of my friends are decked in power suits and holding meetings in their offices.  Then I am reminded that all I ever asked God was to have children I could take care of – which is precisely what He has given me.  Yes, I'm merely selling sandwiches and doing odd jobs online, but I get to take care of my children and spend most of my time with them. It's a good trade-off for me. 🙂
We're barely earning the equivalent of minimum wage but who knows, if this picks up, we could turn it into a decent snack house. If that happens, we'd be able to provide employment to a couple of workers too. So, if you see our sign, please do stop for a while and buy a couple of sandwiches. They're worth only P10 each. 🙂