Made a quick run to the bookstore yesterday for the little girl's illustration board which she needed to bring to school today.  Of course, no trip to the bookstore would be complete without some new books.  Since I want to improve their skills in Pagbasa, I bought three more Adarna books in 2 languages.
I've always liked Adarna books because most – if not all – of them relate Filipino values and good character with engaging stories.  What I love about this new set of Adarna books is that they also integrate Math and Science concepts in the stories.  They would make great supplements to Math lessons in counting and days of the week or Science lessons in water cycle and water forms.
All three books come in two languages which makes for great practice in reading both in Filipino and in English.  Since both my kids are proficient readers in English,  I read the books to them in Filipino then they read the English translation by themselves.  I'll be reading more stories in Filipino to my two bulilits to help develop their skills in Pagbasa at Pag-unawa.  Thankfully, there's plenty of Adarna books available in our fave bookstores.
Munting Patak-Ulan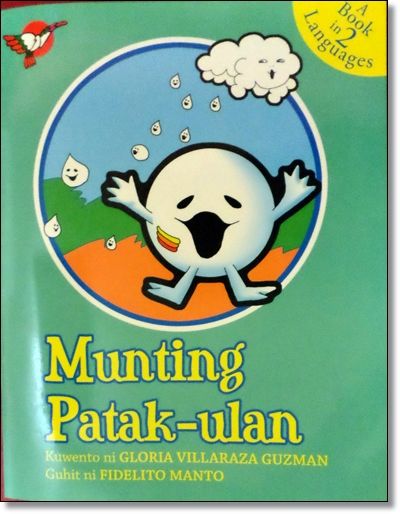 Just yesterday morning I asked my little boy if he knew where rain comes from.  So when I saw this book on the shelf, I put it right into my shopping basket.  The story tells of how Little Raindrop and his siblings fall from the sky; help people, animals, and plants; and go back to their Mother Cloud.  This would also be a great supplement to an Araling Panlipunan lesson about forms of water or a Science lesson on the water cycle.  At the end of the story, there's a page that explains the different forms of water and provides an example for each one.  Among the three new books, this was both kids' first choice for bedtime reading.
Sampung Magkakaibigan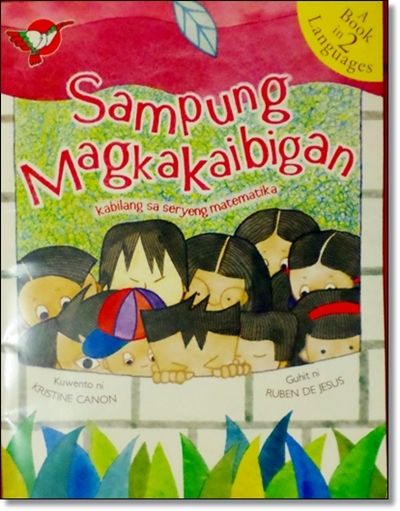 More than providing a lesson in counting from 1 to 10 in Filipino, this book also shows children how one should behave and treat others.  The story revolves around Karlo who mistreats his nine classmates and ends up all by himself.  Although this is recommend for kids age 6 and above, this book would also be great for preschoolers who have just started going to school.  It'd be a great way to tell them about the different behaviors of children they would meet in school and to instruct them on how to deal with each one.
Ang Kamatis ni Peles
Remember the story of the ant and the grasshopper?  This might very well be a sequel to that story.  In this book, the grasshopper Peles gets tired of wandering around and decides to change his fate by working as hard as Hugo the Ant.  Peles plants tomato seeds given by Hugo and patiently takes care of them and waits for them to sprout.  Kids learn the value of hardwork and patience through the story of Peles. If your child is learning about the days of the week in Filipino, this book would be a good supplement for his lessons.  There's also an instruction for proper composting at the end of the story.