Finally! After what seemed like a hundred years, schedules matched and we were able to go out for dinner again. Four hours is never enough for chitchats with these beautiful moms but it's often the only time we could spare to catch up with each other's lives. Four hours may be bitin but I'll take it whenever I can. 🙂
(L-R: the 10-pounds-overweight Me, Arcee of I Love Hues, Gene of Corbitoness, and Bev of Momsicle Online)
We intended to dine at MannHann but I sucked at reading the mall map (how I wish they had a digital signage mall, it would have been so much easier to understand) and ended up leading us in the opposite side of the mall. We were all famished so we decided to have dinner at one of the restaurants nearest us. Mesa was full, there was a Ramen place across it but no one was in the mood for ramen. So, Gaucho it was. Good thing it didn't disappoint us!
Since we were all light eaters, we only ordered one appetizer, one salad dish, and one main course. Thinking that the food may not be enough, I almost ordered one of the side dishes. Good thing I decided to wait 'coz the salad's serving was hefty and the main course was quite filling.
Here's a quick peek of what we had. Pardon the poor quality of the photos, I was just using my camera phone. Plus, we were all famished and couldn't wait to dig in. 😛
Fugazetta with Spinach & Italian Prosciutto (Php 490)
It was a consensus, this was the best one among the three dishes! The crust was perfectly crisp. The prosciutto's delicate sweet flavor complemented the saltiness of the cheese and the tanginess of the pizza sauce. An order of this comes with eight slices (one is missing from the photo below coz someone was starving – it wasn't me!) which is just enough for two diners but bitin for us four.
Ensalada de Remolacha y Ricotta (Php 280)
If one were to have this salad and nothing else, the big bowlful of salad they served us would still be enough to fill three tummies. It was hefty! This generous serving of lettuce greens, arugula, sweet pickled beets(remolacha) and ricotta cheese drizzled with Italian vinaigrette was what kept me from ordering a side dish.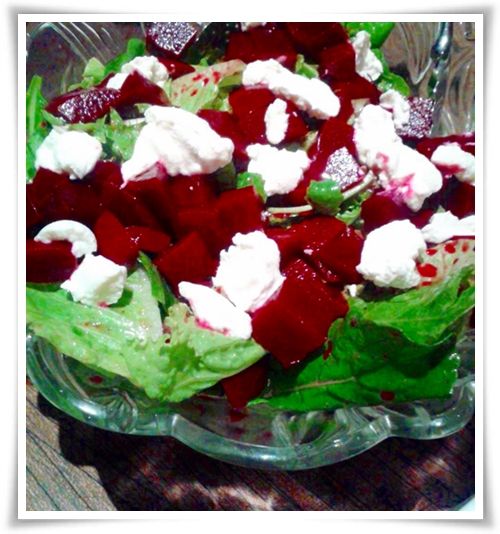 Falda a la Cruz US Beef Shortplate (Php 550)
The US Beef Shortplate slow roasted from the fire pit was served with Chimichurri, assorted organic pickles (eggplant, onion, zucchini I think) and unlimited steamed rice. The meat was tender and juicy but I'm trying to lose a couple (make it more like a dozen!) of pounds so I just settled with a slice. This serving was just enough for the four of us but those with bigger tummies may find this serving good for just one person. 🙂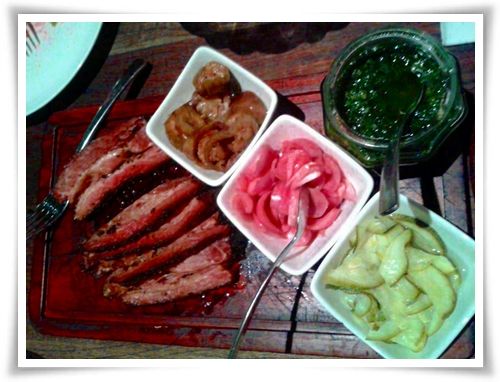 Overall, we loved the food and the ambiance at Gaucho. We didn't stay for desserts though as Bev was collecting stickers from Starbucks where we opted to have coffee and cakes. 🙂
Four hours is definitely too short a time to spend with these beautiful ladies. But I'm grateful that even if we don't get to share as many "four hours" together as we wish, we're all able to keep in touch online and know that our friendship is for keeps. 😀