So what happens when kids are on school break? Well, this Mama gets to attend blog events! 😀 After a Sunday afternoon in Jollitown, I was able to join lunch at the Magic Funfair in Crowne Plaza Hotel on Wednesday. For a hermit-mom like me, two events in a week are already too many. I couldn't pass up the chance to see John Lloyd Cruz up close and personal though so off I went to the Jack 'n Jill Magic Funfair. 😉
Upon arriving at the venue, I was surprised to see carnival game booths inside the function hall. I was then given a Funfair ticket which I was to have stamped in each game booth.
The first one was the Magic Flakes Photobooth where I had a picture taken with John Lloyd's standee (was wishing he'd magically turn real right before the camera clicked ;-).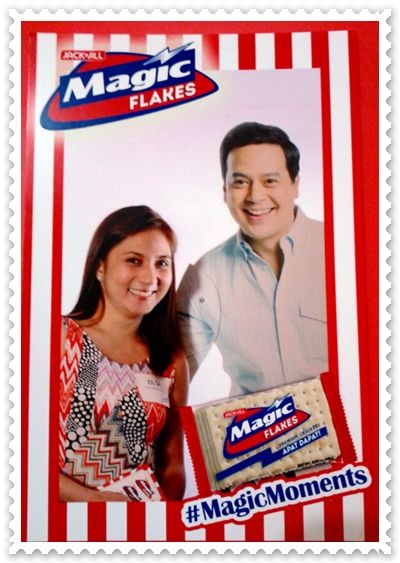 Each booth featured a Magic cracker variant and a player gets to win a bunch of the corresponding variants. I was able to knockdown a can at the Magic Coated Spill the Choco booth and catch three fishes of the same color at the Magic Junior Go Fish! Yey! Unfortunately, luck wasn't on my side at the Magic Creams Magic Wheel of Creams and the Magic Chips TicTacChips booths. I had fun playing though and I got a bunch of my kids' fave Magic Coated Choco Coated Cracker Sandwich.
While waiting for the program to start, guests enjoyed a buffet lunch with some dishes ingeniously incorporating Magic Crackers in their ingredients. The Leche Flan with Crushed MAGIC Cream Chocolate was an instant hit! Pardon me for not remembering to take photos of the food. Not only was I too caught up in the carnival atmosphere, but I also was too excited anticipating the arrival of THE John Lloyd Cruz.
The program opened with host Gelli Victor calling a couple of Jack 'n Jill's marketing officers to give updates on the Magic campaigns and to introduce Magic Fun Fair.  We met one of the lucky Magic consumers, Jenevie Verances, who received Magic domestic vacation package.  We were then shown one of the latest TV commercials of Magic Crackers that would surely bring kilig moments.
Click here to know more about Jack 'n Jill Magic Crackers new TV campaign and new looks
To make the event more festive, four members of the media gamely re-enacted the new commercial.  There's no need to guess who MAGIC-ally appeared right before the commercial ends, right?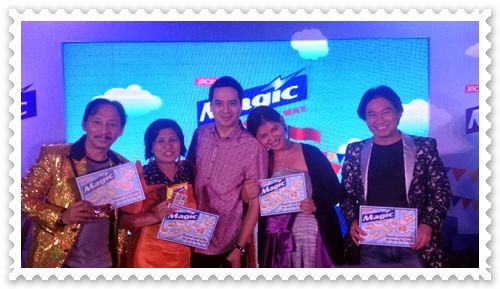 John Lloyd candidly answered questions from the media. As expected he was not only asked about why he has continued to support Jack 'n Jill Magic all these years, but was also asked about his relationship with Angelica, his contract with ABS-CBN, and his career plans.
As much as I wanted to wait for my #MagicMoment to have a picture taken with John Lloyd (the real one and not a standee!), mom duties called and I had to head back home.  To be frank though, I wasn't that sorry to have left early 'coz I got to have more #MagicMoments with my bulilits who were ecstatic when I brought home an assorted bunch of Magic Crackers.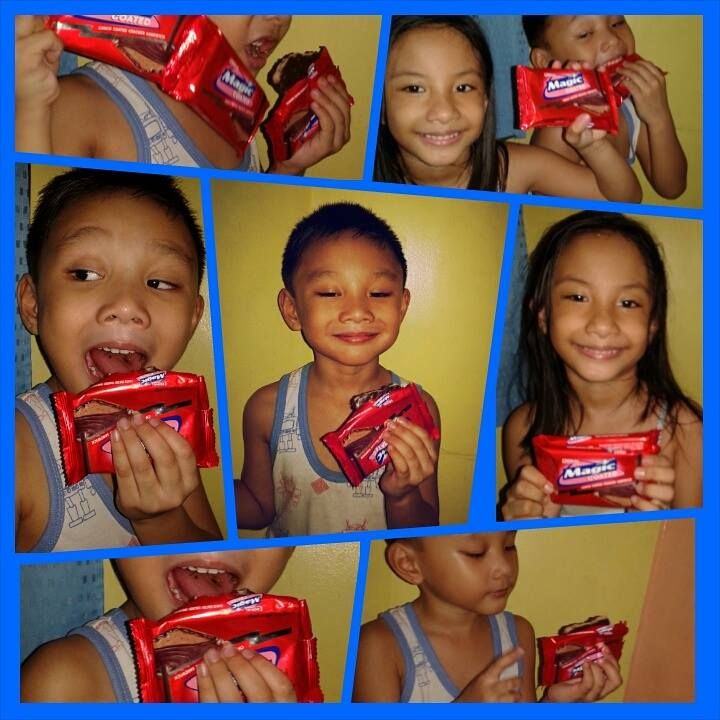 Jack 'n Jill Magic really does have a way of turning ordinary situations into magical ones.  The success of the #MagicMoment campaign stems from the happiness brought to Magic consumers as they are given amazing prizes by the Magic Man himself John Lloyd Cruz.  Want to view these magical moments?  Watch the video below to find out how. 😀