Lunch at Azure Beach Club
We initially wanted to have lunch at the Saffron Cafe but was told that ala carte dishes were not available. We were offered the Sunday Brunch Buffet but both my husband and I just wanted light lunches so we headed to Azure Beach Club. The kids asked for milkshakes which they enjoyed while munching on potato chips and peanuts.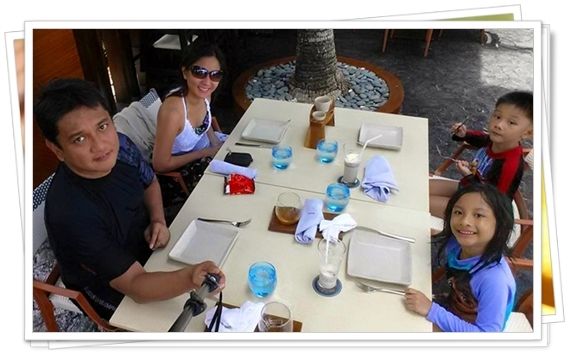 The menu was limited and the only food that appealed to us for lunch were the sandwiches. We had the Club "A" and the Rise Azure. Azure's Club "A" is a hefty sandwich with sesame marinated chicken, bacon, lettuce, tomato, cheddar cheese, and ripe mangoes on whole wheat toast. Rise Azure is a burger with patties made from grilled angus beef and longganiza.  Red onion, emmental, bacon marmalade, fried egg, and baguette bun complete it.  Both sandwiches were served with potato chips, arugula, and alfalfa.
When the food was served, we dug right in and forgot to take pictures.  I loved the medley of flavors in the Club A sandwich.  On the otherhand, hubby was not too fond of the Rise Azure.  The longganiza's flavor overpowered all the other components of the burger.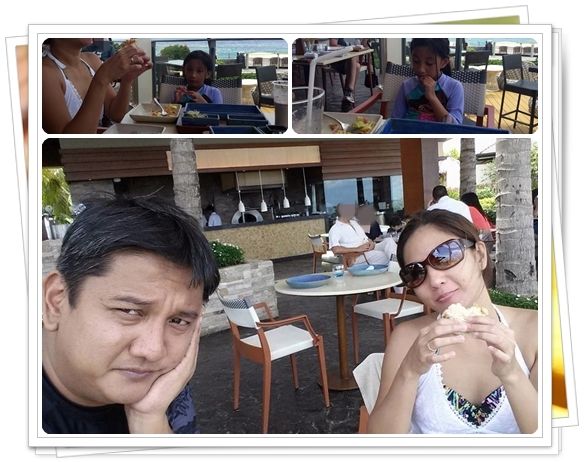 The best thing about having lunch at Azure was the spectacular view. Now I regret not having dinner here. The view at night would have been amazing.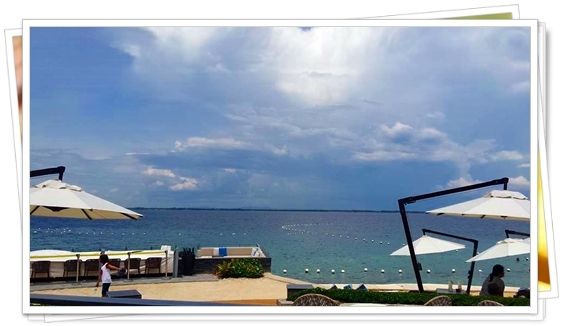 While eating lunch, we were informed that our room was already available. We were then able to settle in our room right after finishing our plates.
A Luxe Bathroom in A Deluxe Garden Room
Oh yes, the bathroom was what we loved the most in our deluxe garden room. As expected, the kids were thrilled with the bathtub and the television in the bathroom. I had to stop them from jumping straight into the tub. On normal days, I would have to call them a dozen times when it's time for bath! A small bottle of bubble bath we brought with us upped their fun factor.
Aside from the sink-in tub and the television, a granite countertop sink and a rain shower with hot/cold water provides the bathroom a luxurious feel. A picture window with a view of the pocket garden at the back of the room make this bathroom a great place to wind down after a day in the beach.
The double doors that lead to the bathroom could be kept open so I was able to organize our things in the room while keeping an eye on the two teletubbies (get it? tele-tub-bies, hihi…) who were watching Oddbods while playing with bubbles.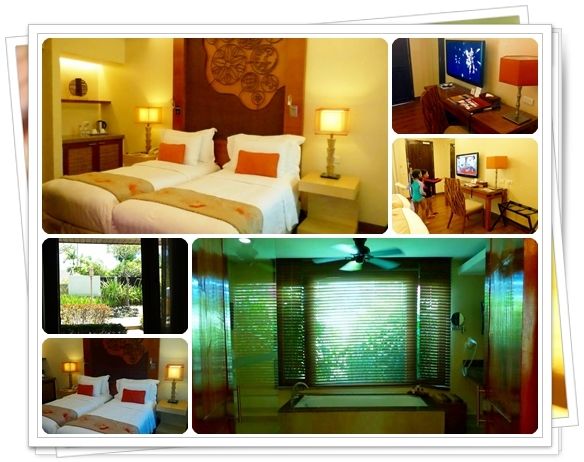 The Deluxe Garden room had a warm homey ambiance.  It was spacious enough and had a mini-bar with complimentary drinks and treats.  If I remember right, we had two cans of soda, two cans of beer, a pack of Peanut Kisses, a small bar of chocolate, and two bottles of water. Along with the electric waterpot were a couple of tea bags and sachets of coffee, cream, and sugar.
The closet was spacious and did not smell stuffy.  Inside was a safe that is big enough to secure a laptop. Wi-Fi signal was relatively good with hubby being able to upload our photos that very night.
The beds and pillows were comfortable although, on hindsight, I should have asked for a king bed rather than two twins. I should also have just waited until 3pm to get a room that was much closer to the pool.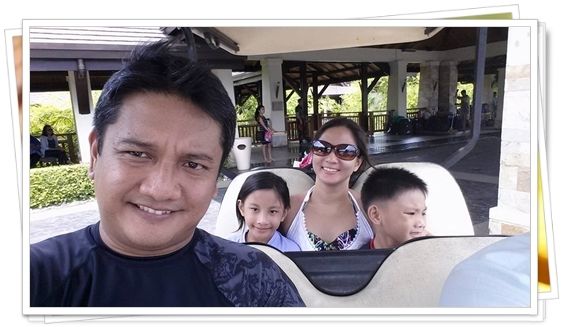 Page 2 of 4
to Page 3 —>