Sunset Blues
After a short nap, we headed back to the pool just in time for the afternoon aqua zumba. After a few minutes in the pool, Jakei asked to be taken to Crimzone.  Jade wanted to stay in the pool though so she and hubby Jasper stayed behind.  The little boy and I took a quick shower before heading to Crimzone.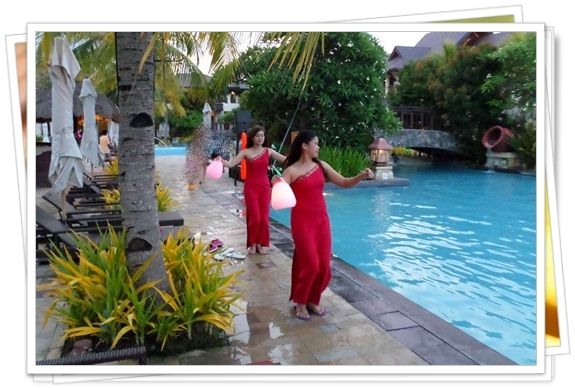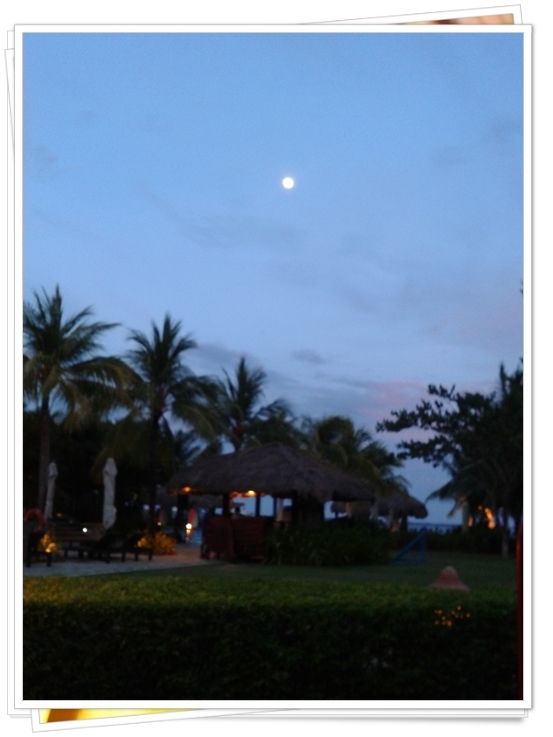 Crimzone Play Area
It was almost dusk when Jakei and I went to Crimzone. I was able to leave him inside for a few minutes when I went to the poolside to inform my husband that we were in the play area already.  Jakei wanted to stay in the outdoor playground but kids were not allowed there without an adult so he had to wait for me.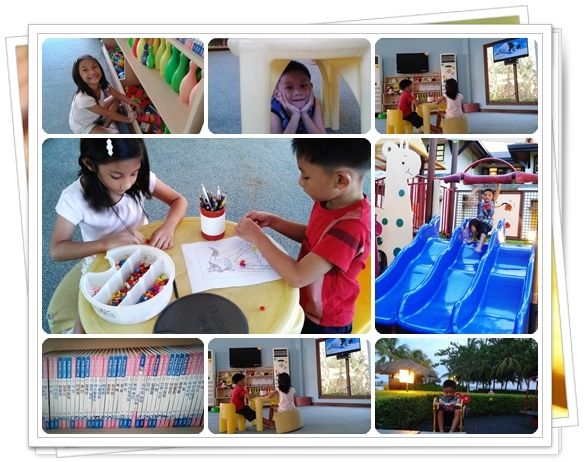 Even though the little boy was having fun running around and going up and down the slide, I had to take him back to our room to get their mosquito-repellent bands. A few of the pesky insects bit me on the legs while at the Crimzone.
The next morning, I took the kids back to the indoor play area.  I was able to leave them there while Jasper and I packed our bags and checked out.  While waiting for us, the kids also made their own bracelets to remember Crimson by.
Dinner at Saffron Cafe
The in-room menu was more to my liking than the one at Azure Beach Club that I was inclined to have dinner in our room. Hubby though wanted to check out the dinner buffet, so Saffron Cafe it was for dinner. The dinner buffet rate is good for one adult and one child so Jade got to choose from the buffet as well.  For fear of not fitting in my bathing suit the next morning Since I didn't feel like eating much, I opted for their ala carte menu from which I chose a serving of Soy-Calamansi Marinated Chicken. I didn't really enjoy that one and wished that I ordered something else or opted for the buffet which Jasper and Jade were enjoying much. The two had platefuls of sashimi, seafood, lamb, liempo, etcetera, etcetera. Jakei, although a bit sleepy, finished a plateful of spaghetti and was allowed to get some dessert from the buffet table.
It was that horrible time of the month for me so my energy was low. As much as I wanted to see the night sights around the resort, my body just wanted to be dragged to the room and slumber peacefully on the bed.  The little boy kept me company while Jasper and Jade finished their dinner and checked out the resort.
Breakfast in Bed
The kids and I are all not heavy breakfast eaters so instead of joining the breakfast buffet, we ordered in.  Our breakfast tray was delivered 30 minutes after we requested for it. We had omelette (forgot what I asked to be added to it, must be ham and cheese or mushroom), a hefty serving of bacon, a croissant, danish pastry, banana muffin, hashbrowns, and a pot of hot chocolate.
Page 3 of 4
to Page 4 —>