A beach resort was first on my list when I was planning our Cebu-Bohol adventure.  Among those that were recommended by friends were Shangri-la Mactan, Crimson Resort and Spa, Moevenpick, and JPark.  Since my considerations were for the resort to be kid-friendly and budget-friendly, we opted for Crimson Resort and Spa in Mactan.
Reviews from TripAdvisor mention that some lost their way going to the resort.  Even some taxis where said to be unfamiliar with the location.  Getting lost with two kids in tow would be quite terrible so I decided to arrange for transport from the airport to Crimson Resort. We had to pay more than double than what a regular taxi fare would cost but the convenience was worth the extra bucks. Upon arrival at Mactan Interntional Airport, we were welcomed by a hotel representative who then ushered us to our car. The drive to the resort took around 20 minutes only.
Check-in time was at 3 pm but we were told that a room would be available right after lunch. We were free to use all the facilities though while waiting for our room. We took our bag with our swimming gear and left the rest of our luggage with the bellman. We had to rent lockers near the fitness hall to keep our clothes and valuables in. A deposit of 500 pesos for each locker was required but was returned also after we surrendered the keys.
Feeding Frenzy at the Beach
After changing into our swimsuits, we headed straight to the beach. The beach front was smaller than I pictured it to be. And true to the reviews I've read online, the beach was quite rocky.  Still, we enjoyed our REALLY SHORT dip in the sea – really short because the little girl freaked out when schools of fish swam around us. It was fish feeding time when we hit the beach.  There was a basket of bread available and the li'l boy and I were happily throwing bits and pieces of bread around us.  I was truly enjoying our real-life feeding frenzy, so it was with a heavy heart that I left the beach.
Infinite Fun in the Infinity Pool
We spent the rest of the morning in the three-tiered infinity pool. Two pools were 2-ft deep while the third one was 4-ft deep. Since the kids had their floaters, we were able to stay in the last pool which had a spectacular view of the sea.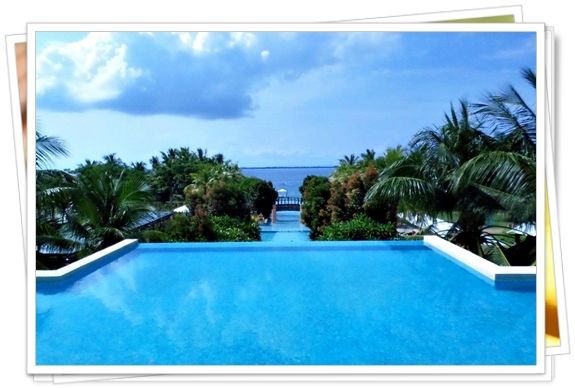 The water was pleasantly warm (hubby wished it were cooler though) and I could have stayed there all day long.  There are scheduled pool activities throughout the day.  There was aqua zumba both in the morning and in the afternoon. Hubby and I joined both although I had to keep an eye on the two kids swimming (uh-oh…helicoptering still!).  A game of water polo was also offered but there were only a couple of swimmers who wanted to play.
I found out the next day that there were also activities for kids in the kids' pool. Had I known about those when we checked-in, I would have brought the kids to the other pools instead.
Page 1 of 4
to Page 2 —>