Alright! I admit it. I'm guilty! – Guilty of raising would-be hoarders. At their young age of six and seven, my two kids are now budding book collectors (it's in their blood, you know).  They've already started their collections of Roald Dahl, EB White, CS Lewis, and their favorite writer to-date, Geronimo Stilton.  Oh yes! I've got two mouse-ter-ful readers at home.
On our trip to the bookstore last July, my daughter Jade saw the Geronimo Stilton Academy Pawbooks on display and asked if we could buy one (Of course, she would ask – what would you expect from a Stilton fan?!). However, we had already paid for the books she had chosen.  I promised her I'd get her one on our next trip to the bookstore.  By some piece of cheese luck, she got all six Pawbooks (and a whole set of Geronimo Stilton books!) during the Scholastic Trade Launch we attended last August.
Scholastic Trade Launch
Although the trade launch was held in far far away Powerbooks Greenbelt 4, my Jade and I endured more than an hour's drive through metro traffic and bravely faced the monsoon rains just to see Geronimo and Thea.  We wouldn't have missed the event for the world!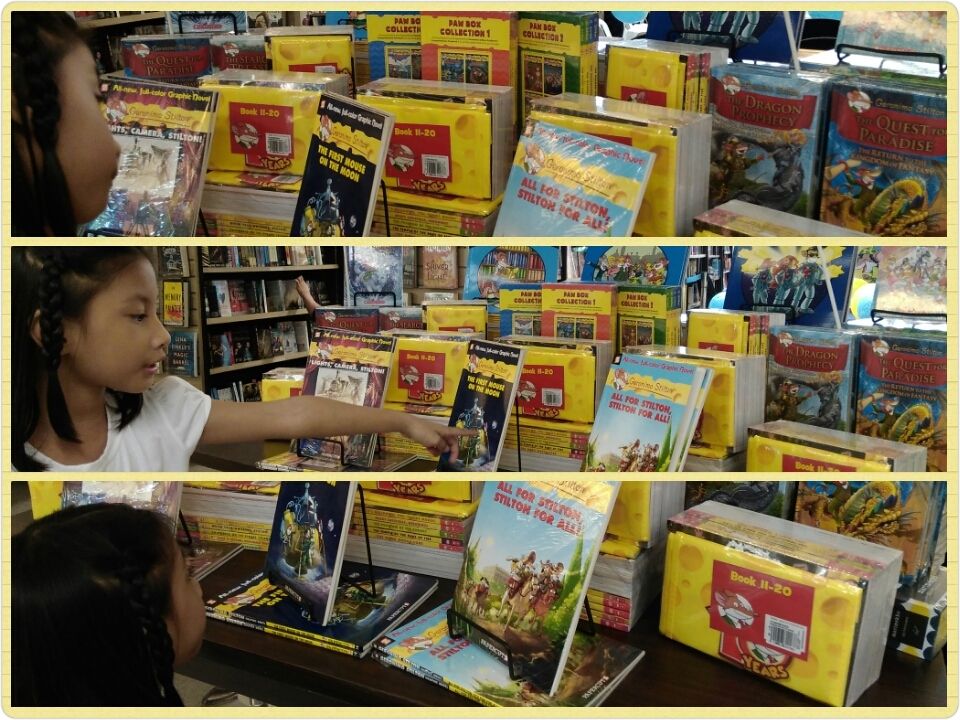 We arrived at Powerbooks an hour early but boredom was not a problem.  We were surrounded by BOOKS!  And Jade could spend hours reading transported into her own world of imagination.
After buying a Rainbow Fairies book (also a Scholastic book!), Jade joined me in the event area and saw the Geronimo Stilton Academy Pawbooks in my bag.  Oh yeah, I'm sure you know what happened next!
While Jade was busy working on two of the GSA Pawbooks, I browsed the other books. I couldn't help wishing we had such books when we were young.  My sisters and I would have greatly enjoyed working on them.  (I'll let you in on a little secret – I answer some of the pages in the Pawbooks, too! tee-hee!)
Geronimo Stilton Academy Pawbooks
With Geronimo Stilton Academy Pawbooks, mouse-ter-ful readers can became fabu-mouse writers as well – just like Geronimo!
The Vocabulary Pawbooks contain fun puzzles and activities that help readers understand word formation, build their vocabulary, and engage them in using new words they learn.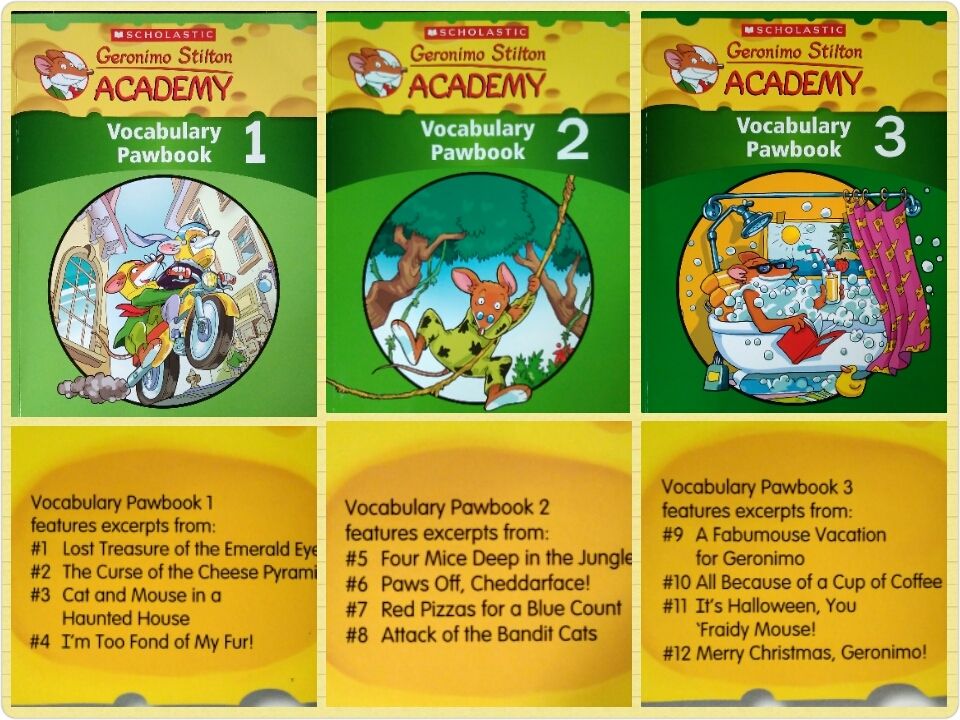 The Comprehension Pawbooks help develop reading skills such as predicting outcomes, inferring, sequencing, recalling details, and drawing conclusions.  Fun activities in the Pawbooks engage children and motivate them to read. Structured activities develop their comprehension skills.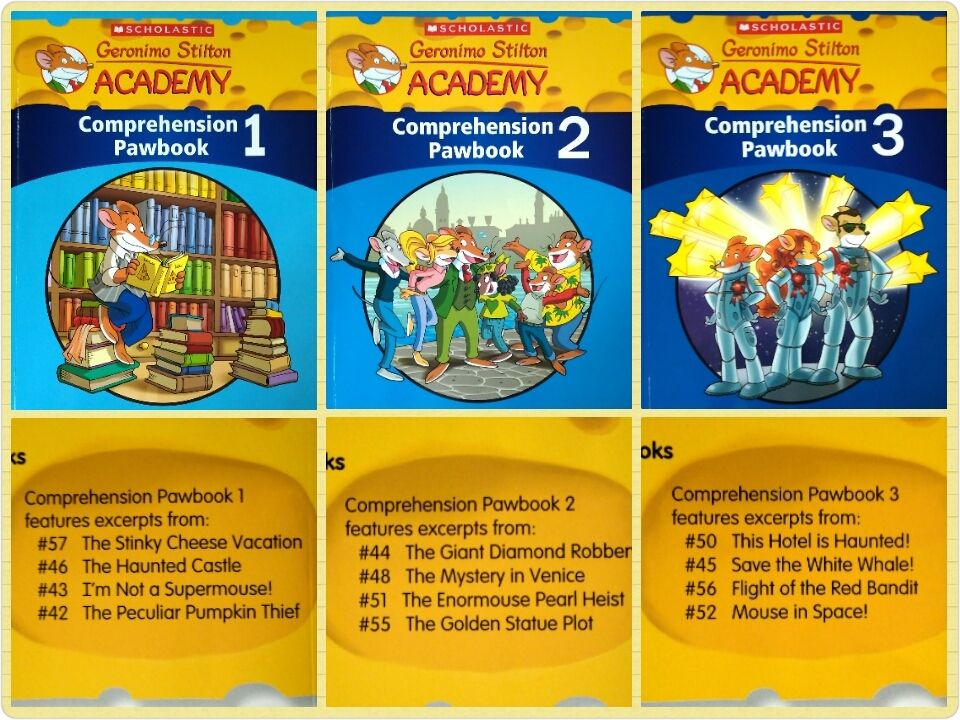 This October, a new set of Grammar Pawbooks will be released. Now, that's something to watch out for!
Fun, Entertaining, and Engaging.  This is what sets the Pawbooks apart from other workbooks.  Admit it, most English workbooks are booooring.  You just have pages and pages filled with words and nothing else.  Well, Pawbooks have the same quirky illustrations and witty humor as Geronimo and Thea Stilton books.  These make learning English a lot more fun.
Learning English will become as enjoyable as chewing off a large chunk of cheese!
When Jade first saw the Pawbooks, she just wanted to see what was inside. As she was browsing through the pages, she saw an excerpt from The Curse of the Cheese Pyramid – one of the books we brought with us for the book signing.  Her eyes lit up as she exclaimed "Ohhh! I know this. It's from the Cheese Pyramid!" After this discovery, she asked for a pencil and started working on that Pawbook.
Geronimo Stilton Academy Pawbooks are targeted for kids age 8 to 13 who want to develop their literacy skills.  Although my kids are just age 6 & 7, they still love working on the Pawbooks.  When I asked Jakei, my 6-year-old son, if the Pawbooks were easy to answer, he said they were not easy BUT he still likes answering the exercises.
Geronimo Stilton Pawbooks are very affordable at only P299 each (that's the price in NBS).  Really a small amount to pay for learning. Oh and if you want pawsome online games and activities, check out the Geronimo Stilton page in Scholastic.com where you – oh, okay, your kids – can create your their own Geronimo Stilton comic book.
One final thing, Geronimo and Thea Stilton will be at the Manila International Book Fair on September 20. You can have your Stilton books stamped by the siblings on that day. Yey! 🙂
########
For more information on the Geronimo Stilton Academy: Pawbooks, visit Scholastic's website at www.scholastic.asia or Facebook page at www.facebook.com/ScholasticAsia