It's Friday the 13th tomorrow and while the superstitious anxiously dread that day, a lot of us are looking forward to it. Well, not just any Friday the 13th, I'm talking specifically about tomorrow, November 13.
What's so special about it? November 13 is the World Toilet Day. Yes, there is such an event. Lest you think it's a nonsensical one that is the center of butt jokes, World Toilet Day is for a noble cause. It is part of an advocacy program that aims to improve toilet sanitation.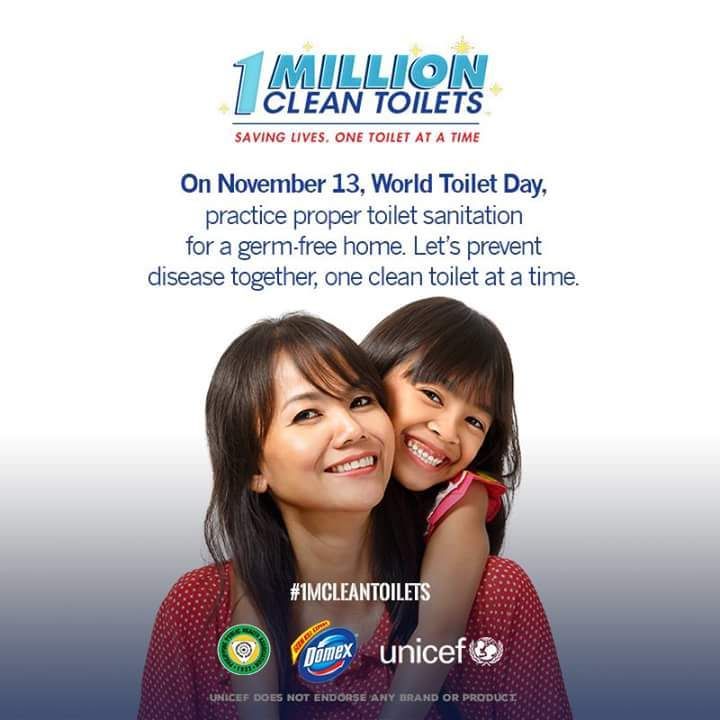 Why the big deal about toilet sanitation, you may ask. Well, according to a study conducted by the World Health Organization (WHO), children around the world miss an estimated 443 million school days each year because of diseases caused by poor sanitation and hygiene practices, including using unsanitary toilets. Yes, 443 million school days MISSED – EACH YEAR! That's about one month of empty grade school and high school classrooms in the Philippines!!! So, yes, toilet sanitation IS a big deal.
Every day, millions of children in rural communities and urban households nationwide are exposed to disease-carrying germs that inhabit dirty toilets. These germs can cause diarrheal diseases and parasitic worm infections which leads to nutritional deficiencies, physical and mental stunting, and even death.
For the past three years, Unilever Philippines through its germ-kill expert brand Domex, has been working with UNICEF and PPHA to champion the One Million Clean Toilets Movement. Through this advocacy, Filipino families can be educated on proper toilet hygiene and the importance of sanitized household toilets. We stress the word SANITIZE because not all clean toilets are free from germs and bacteria. It is essential for everyone to know that proper cleaning materials with effective germ-kill action must be used to clean toilets to ensure our family's health.
So, tomorrow, November 13, join us in the One Million Clean Toilets Movement! Together, let's join the fight against disease causing germs to save lives, one clean toilet at a time. Help spread awareness on the sanitation issue caused by unsanitary toilets by watching and sharing the "Sick Days" video. Don't forget to use the hashtags #1MCleanToilets and #WorldToiletDay2015 when you share the video. 🙂
To learn more about Domex and how you can stay safe from diseases with a germ-free home, visit Domex Philippines on Facebook.