It is important that busy parents have a place in their home where they can go to relax at the end of the day. This is often the master bedroom; but, unfortunately, most people overlook their bedroom when it comes to decorating. It is simply a place to store clothing and crash at the end of a hectic day. By doing some simple renovations, this area can become a much needed refuge for a tired mom or dad.
The Structure of the Room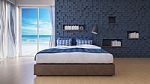 The first step in creating an oasis within the master bedroom is to look at the actual structure of the room. Is the placement of the bathroom and closet working? Are the windows acceptable, or would it enhance the area to add a larger picture window? Is the color okay? These decisions are best made with the help of a reliable contractor. Free contractor leads can be found online at sites such as Renovation Experts.
Functional Furniture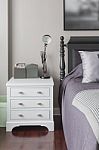 The furniture in a master bedroom should be functional and beautiful. Whether one likes a contemporary look or a rustic feel, the furniture needs to provide what the homeowner wants. Beds should be large enough for the occupants to sleep comfortably without over powering the room. Leave enough floor space for a nightstand on each side and a dresser for extra clothing. Additional pieces like vanity tables, valet racks, and benches will help make the room cozy and useful.
Beautiful Accessories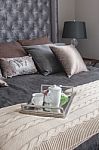 The bedding is the first thing one sees as they enter a bedroom. It should be the focal point of the room while adding a pop of color to the space. Throw pillows and an extra blanket at the foot of the bed make it comfortable. Curtains should coordinate while providing privacy. Room darkening drapes are ideal for sleeping in. Throw rugs can be used to create soft places for bare feet to land as one gets out of bed, and remember to match bathroom towels, window coverings and treatments, and rugs to the main room. Consistency is key here. You'll find top tips for choosing a luxury rug for your bedroom on sites like info.bazaarvelvet.com. There's never been a more exciting time to add a couple of accessories to your room than it has now. You can't go wrong when it comes to decorating, as it all comes down to personal taste. If you like it, that's all that matters.
With these few simple changes parents will find that they have a master bedroom that is both inviting and comfortable. They can recoup, relax, and get a good night's sleep in order to wake up refreshed and ready to tackle another day.