Pantene is one of the two conditioner brands that I have been using for many years now.  When I received a package of three Pantene Daily Intensive Conditioners, there was no need to test the products out for me to rave about them.  They've been tried and tested through the years. Having remained a Pantene user for this many years already says a lot about how much I love their products.  After discovering the #BeautifulScience behind Pantene though, I couldn't resist testing if it really works.
For my mini-experiment, I parted my hair in half after shampooing and used Pantene Color and Perm Daily Intensive Conditioner (I had my hair colored a few weeks ago so this is what I've been using lately) on the right half.  I then compared the texture and appearance of both halves right after rinsing, after towel drying, and when my hair was fully dry.  When my husband came home, I also asked him if he could tell any difference between both halves.
Here's how my mini-experiment went:
After shampooing my hair, I gently squeezed my hair to drain off excess water. I then squeezed an adequate amount of Pantene Daily Intensive Conditioner on my palm and spread it on my palm and in between fingers.
I parted my hair in the middle and applied the conditioner on the right half. I let it soak for a couple of minutes before rinsing thoroughly. Right after rinsing, I already noticed significant difference. The side with Pantene conditioner was tangle-free and I could easily run my fingers through my hair.  The other side felt wiry and rough.  After towel drying, I took a picture of both sides.  Check out the two pictures below.
Did you notice that the left side was frizzy while the right one was smooth and straight?  Here's another picture where the difference is more evident.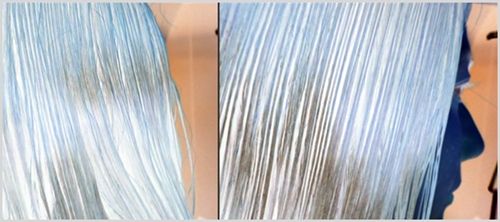 Even without using a blowdryer, the side with Pantene was still sleek and not frizzy. After a few hours, the Pantene side remained tangle-free, shiny, and smooth.  When my husband came home, I asked him if he could any difference between the two halves.  He said that the right side was smoother and smelled great.
You can really tell the Pantene difference.  The Pantene side stayed soft, smooth, and fragrant more than 12 hours after shampooing – and even after a couple of hours exposed to city pollution and sunlight.
After doing this comparison, I am now more confident in saying that I use Pantene Daily Intensive Conditioner because it really works!