A month ago, my husband was invited as a guest reviewer on NewsTV11's POPTALK which is hosted by Kuya Tonipet Gaba. The episode was about outdoor activities families could do together this summer. They chose a Dad, a Mom, and a child to review three venues that offered different outdoor activities. My husband Jasper, Sheree of Viva Hot Babes, and Miggs Cuaderno of Munting Heredera were treated to a day full of adventure flying ultralight planes at the Angeles City Flying Club, surfing artficial waves at Club Manila East, and camping at Phillip's Sanctuary in Antipolo City. The best part is, the entire family got to tag along!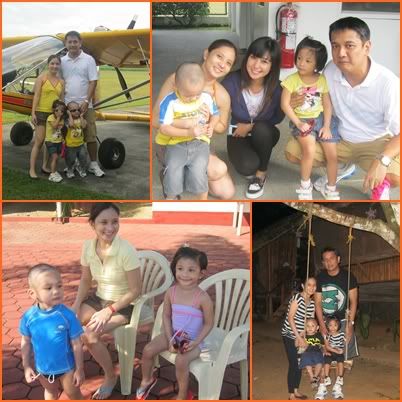 First in the itinerary was a drive to Pampanga to fly ultralight planes at the Angeles City Flying Club(ACFC). Hubby was able to overcome his fear of heights and flew in a plane, a very small one indeed, that had no body. See the white plane in the picture below? Imagine it without the glass and the white body. That's how the open-type ultra light plane my husband flew looks like. Mr. Boy Guevarra, one of the instructor pilots in ACFC, patiently taught hubby how the plane works and allowed hubby to fly the plane for a couple of minutes during their 12-minute trial flight. At ages 3 and 4, our children are still too young to be allowed on the ultra lights but hubby greatly recommends this activity for those with older children. He says that this is something you don't get to try often and should try at least once in your life. The 12-minute trial flight cost 1650 pesos but the flying experience is well worth the price.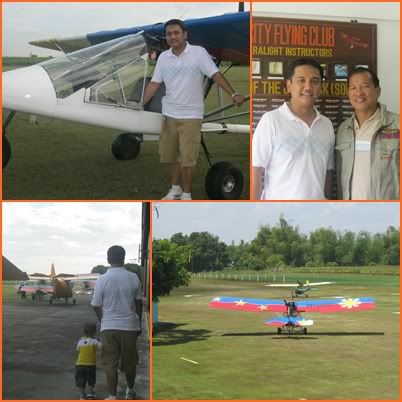 After lunch, we drove back to Manila and headed straight to Taytay, Rizal to try out surfing at Club Manila East. This is hubby's first time to try surfing but he got the hang of it quite fast and he loved it. That's hubby standing on the board – surfing! – in the upper right picture below. The kids and I brought our swimsuits also and got to play in the wave pool. We made sure though to stay out of the surfers' way. I saw a little girl as young as 4 already taking surfing lessons. The surfing lessons cost 1500 pesos for 2 hours which really isn't that expensive compared to expenses you would incur if you travel to beaches with surf-worthy waves. Although I think my hubby enjoyed himself so much that our next holiday might have to incorporate surfing beaches and I'll have to keep an eye out for Cheap Wetsuits for Surfing.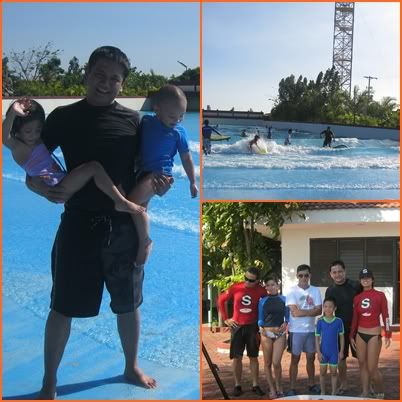 The last outdoor activity they tried was outdoor camping in Philip's Sanctuary. Nestled in the mountains of Antipolo, Rizal, Philip's Sanctuary transports you into a place where pollution, both noise and air, is virtually nil. Going to the campsite, we drove down a narrow dirt path among towering trees. It was a bit scary but it did harbor what was to be expected in the site. Hubby and the rest of the reviewers experienced walking in the dark, eating food roasted over a bonfire, and sleeping inside tents. I must admit they used cot tents for that extra bit of comfort; when it's so easy to get hold of them it's hard to resist! Though Philip's Sanctuary is an ideal place for Team Building activities for companies or other organizations, it may not be something for a single family to enjoy. However, if you want to try out something new on your next grand family reunion, you may want to consider taking the entire clan camping at Philip's Sanctuary. This is also the most affordable activity among the three the Poptalk reviewers got to try out. Before setting out on your camping trip, you may benefit from reading some camping tips and advice on the Outdoorcommand website.day package rates start at 500 pesos and overnight packages with meals start at 1250 pesos.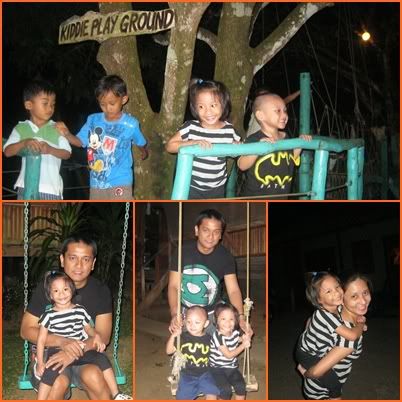 Among the three activities, my husband loved surfing the most. He is seriously considering going back at Club Manila East for more surfing lessons. Judging from how my kids behaved during the entire day, I would say that they loved swimming the most. We took them swimming again, this time at Villa Concepcion in Bulacan, a couple of weeks ago but they have been clamoring still for another trip to the pool. Hopefully, we'll be able to take them to the beach before this summer ends.