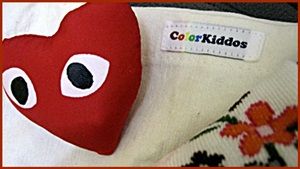 Wait, my title's not right. It's actually more of ColorKiddos: A Heart With A Business.  Why so? Because this enterprise was born from the hearts of two parents who wanted to help families with children who have colorectal birth defects just as they were helped by a ColorMom (Mom of a kid with colorectal defect)  when their daughter was born with an imperforate anus.
Here, Mommy Maricar tells us the story behind ColorKiddos:
When I became a mom the second time around in April 2009, I was greeted by a lovely daughter withno hole in her bum… YEP, you got it right, no hole.  I didn't know it was possible!  Never read and never heard about it.  An aunt told us she heard about it in cows, but it was her first time to hear it happens to humans.  I was caught off guard, wasn't prepared.  But panic was never in my vocabulary, I know that God gave me my daughter for a reason… He never makes mistakes, my daughter wasn't a mistake.  However, reality is, it is not NORMAL and because of that, her life was at risk.

Having a daughter with IMPERFORATE ANUS (one kind of colorectal birth defect) is never easy.  My husband and I read about it and the web was very helpful in making us understand what needed to be done… We  also talked to our doctors who were very helpful and patient in explaining the details that we needed to know.  But it was different when somebody, by the name of Cindy, took the time and talked to us about it.  You see, Cindy is a colorectal mom too, a ColorMom as I'd like to call moms who have kids like mine.  She met with us and with all "positivism" gave us the assurance that our little Meimei is gonna be OK, as her little Tonio was.  She brought us to her house, showed us the things that she used and even gave and lent Meimei some of Tonio's stuff that he no longer needed that time.  It was like God send an angel to help us through each step of the way, for that we were and are still grateful.  Meimei went through 3 major surgeries and through it all, Cindy was there to lend a hand and demonstrate how things should be done.  She was a very hands on mom when it came to caring for her ColorKiddo Anton so I was able to get very practical tips from her.

When Meimei turned 1 year old, my husband and I decided we would give a THANK YOU offering (financially) to honor God for His provision and to celebrate the successful journey of  our daughter.  But if we only gave the money to 1 child, it ends with that 1 child.  So instead of giving the money to just one baby, we decided to use the money to start a business that will generate more income, to help more children.  The best part was the community got involved.  Family, relatives, friends, bloggers and even strangers  not just in our City, but from other cities and provinces as well.  Selling the product made the buyers so glad to be able to help and at the same time enjoy their purchase.  So WHY ColorKiddos?  Because it's not just my husband and I who want to help the colorectal children live a better life… Our families do. Our friends do. Our communities do.  ColorKiddos is just one of the many ways we can help the less fortunate live better lives.

ColorKiddos is first a social enterprise (as it does service to society by helping colorectal children) but at the same time a business (as it has to generate income for expansion and to compensate the efforts of those who are doing the job).  We hope our dealers and our buyers will all feel proud that patronizing ColorKiddos mean patronizing good products with good hearts.
A few months ago, I myself bought several items from ColorKiddos.  The one we love the most are the Bamboo Charcoal Inserts.  These are 3 layers of microfiber sandwiched between 2 layers of 100% bamboo carbon fiber.  My 4-yr-old daughter uses these antibacterial liners instead of diapers when she sleeps at night.   She doesn't pee in her sleep that often anymore so these inserts work well for her and also lessens our diaper expense.  When budget permits, I'll be getting half a dozen more of these for my little boy.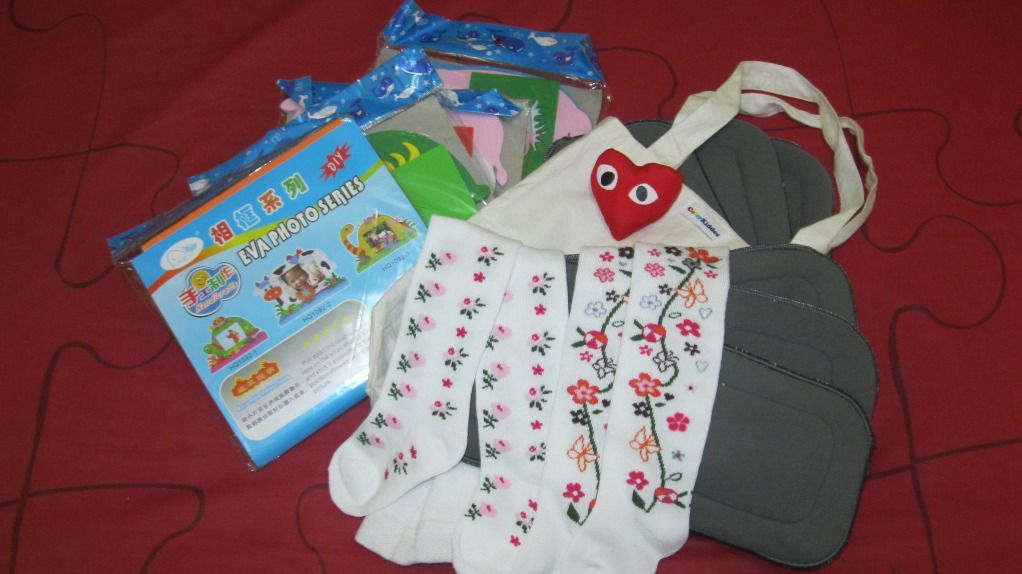 The tights I bought for my little girl were a tad too short so they were given to a younger cousin instead.  The puzzle photo frames are in our gift box where all gift items are stored for future use.  I'd actually missed some other great products from ColorKiddos due to budget constraints (we were prepared for tuition fees but expenses for baon and transpo are eating up way too much of our budget 🙁 ) but will definitely get some gift items for Christmas.
If you're still shopping for Christmas gifts, please do check out products from ColorKiddos, https://www.facebook.com/ColorKiddos.  You not only make your gift recipient happy, you also make one child with colorectal birth defect happy.  😀