Last Friday, the kids joined their first ever Christmas Party in school. They were excited mainly because they were going to a party but, young as they are, weren't looking forward to anything more than playing with their classmates. School is a brilliant place for the kids to have a Christmas party as it's a familiar place to them full of their friends. For parents though, nothing could be worse than having to go into the office on a day off to have a party, which is why Christmas party venues are so popular. Whether it's a hall, restaurant or marquee, a Christmas party is always better in an exciting venue. For kids though, it can be incredibly exciting to be in school having fun. It makes a change from sitting at a desk!
The school asked us to bring finger food for sharing so the kids and I baked some brownies for their classmates. We don't have a decent oven so we had to make do with an oven toaster mix. We added some Hershey's mini-Kisses to the mix which made the brownies taste really good. And I mean REALLY good! I also was supposed to make cheese logs but had a hard time molding the cream cheese so ended up making canapes instead. Not for kids, I know, but moms and dads were going to share the food, too. As expected, the kids opted for hotdogs, chicken nuggets and marshmallows (was extremely proud of my Jade who got a banana!).
There was also a short program which was held outside the classroom. Had I known that there was going to be a program, I would have chosen something else for my little girl to wear. Geez, she was wearing her long-sleeved Christmas shirt and leggings under the stifling heat of the almost-noon sun. 🙁 Good thing the artist in her didn't mind the heat and she still performed the best that she could. They sang three different songs but I wasn't able to take a decent video nor pictures as my little boy kept running to the food table to get marshmallows.
After their presentation and snacks, they exchanged Christmas gifts. I'm glad that most of the parents took time to check what each child wrote on their Christmas wishlist stockings as most of the kids received what they really wanted. My little girl got the guitar that she asked for. Though my little boy didn't get a Spongebob toy, he was still happy with the Imaginarium art set that he received. Technically, it has a sponge and a bob though. LOL!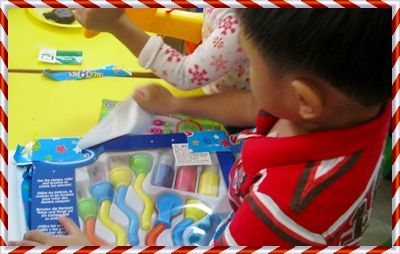 Both my kids had fun during their Christmas party. The mom-slave though wishes that there wouldn't be any temper tantrums next year. And will keep in mind not to let any of her children wear long-sleeved shirts. 😛