//
Parenting, relationship, and education experts have teamed up to organize The Family Congress 2012 with a vision to equip individuals with skills needed in whatever relationship stage they are in.

The Love Institute in partnership with Galileo Enrichment Learning Program and F.I.D. Event Services presents The Family Congress 2012 which will provide a venue for learning by gathering the best experts in the field of psychology, parenting, and relationship to share their knowledge to family members, educators, and organizations in the most effective and simplest way. From 8am to 5pm on August 25, 2012, join the Family Congress team at the Valle Verde Country Club, Pasig City and learn from the variety of topics about relationships and love.
PARENTS who want to improve their parenting styles, to know the value of modern technology and how to manage it, and to learn more about managing and preventing bullies; COUPLES who wish to nurture, maintain, or improve their relationships; TEENS and YOUNG ADULTS who are confused with their emotions and want to learn more about relationships – Crushes, Sex , Dating and Love, are all enjoined to attend the Family Congress 2012 and choose two sessions from among 10 varied and very interesting topics:
Morning sessions:
1A – Migrating and Managing the Digital World by Queena Lee-Chua, Ph.D.
2A – Handling the Bully and the Bullied by Honey Carandang, Ph.D.
3A – Built for Forever: Preparing Singles for a Lifetime Relationship by Rissa Singson-Kawpeng
4A – Teen Talk about Love, Sex, and Dating by Dan and Nabelle Caballes
5A- From Wellness to Wholeness (for adults 21 & up) by Harriet Hormillosa, M.A.
Afternoon sessions:
6P – Being Friends Forever in Marriage: Learning the Art of Fighting by Allan Dionisio, M.D. & Maribel Dionisio, M.A.
7P – Teaching Parents to Talk to Kids & Teens about Crushes, Sex & Relationship by Michele Alignay, M.A. & Aiza Tabayoyong
8P – Managing Teen Emotions by Obet Cabrillas
9P – Career, Relationship, and Life Plan for Singles by Pia Nazareno-Acevedo
10P – Beyond the Tears: Griefwork by Cathy Babao-Guballa
Aside from attending two sessions, guests will also get to hear inspirational messages from Archbishop Luis Antonio Tagle and motivational speaker Francis Kong.
Early bird rates are: P1300 if you register before April 30; P1400 if you register before June 30. Regular rate is P1500 per attendee. Promo rate: 6+1 (pay for 6, get 1 free based on regular rate). Registration fee is inclusive of seminar fee, meals, and lots of freebies.
For more information, please call 579-0100, 0917-8972903, 0922-2521896, email [email protected], follow them on twitter.com/FamCong2012 and like facebook.com/FamilyCongress.
*****************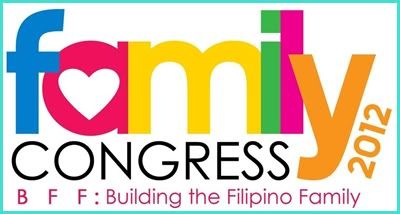 MEET THE ORGANIZERS AND SPEAKERS
Maribel S. Dionisio is a Parenting and Relationship Expert of 21 years, a co-founder of The Love Institute, and a co-author of 3 relationship books and 3 parenting books. A popular face on TV, she has guested in TV/radio programs like Umagang Kay Ganda and DZMM's Teleradyo and Aksyon5/Radyo Singko's Relasyon to name a few. She was one of the main organizers of the 1st Ateneo Family Congress for Grade School and High School Parents in March 2005 with almost 1300 parents in attendance.
Ma. Rowena J. Matti has been in the education industry since she was a child, when her mother founded the Sacred Heart School in Malabon. Rowie started helping out with the operations in the school until she saw the need to supplement the learning of students, especially in Math and English. With a pool of educators and consultants, Galileo was born. Rowie shares the same passion in educating the parents of the children as well. She had several times witnessed that children get affected with their studies when the family is in trouble.
F.I.D Event Services is the exclusive organizer of the 2012 Family Congress. It is headed by Fides M. Reyes, whose expertise in PR and events organizing has been strengthened and refined by over a decade of experience as Circulation and Events Manager for MediMarketing, Inc. She is likewise very passionate in the ministry of strengthening relationships within the family and is actively serving at the Light of Jesus Catholic Community of Bo Sanchez as Pastoral Head and part of the Creative Media Team of The Feast Ortigas.
Dr. Queena N. Lee-Chua graduated from the Ateneo de Manila University in 1987, with a degree in BS Mathematics, summa cum laude. She also received a master's degree in Counseling Psychology and a doctorate degree in Clinical Psychology from the same university, where she is now Professor. Her column "Eureka!," appears in the Learning Section every Monday at the Philippine Daily Inquirer while her monthly column "Homework" is published in Working Mom Magazine. She has written 30 books on mathematics, popular science and IT, education and psychology, family businesses, and inspirational stories.
A much sought-after speaker for schools, government, civic groups, and business, Queena is also a consultant to schools, NGOs, education groups, the Department of Education, and the Department of Science and Technology (DOST). A past governing member of the National Book Development Board, she specializes in mathematics and science education and learning psychology, popular math and science, communication, especially in math and science.
Queena is happily married to Smith, a banker and doting mom to teen son, Scott.
Dr. Ma. Lourdes "Honey" A. Carandang, a National Social Scientist Awardee in 1995, has made significant contributions the past three decades in clinical practice. She is a researcher and clinical psychologist, author of a dozen books, a mentor to generations of psychology students.
As a clinician she has pioneered in Child-Family Therapy and Group Play Therapy for children. She set-up the MLAC Institute for Children and Families in 2010 with the main goal of applying the scientific principles of psychology for the well-being of Filipino children and families, especially the poor, the disadvantaged and the traumatized. The Institute is founded on her solid belief in the innate truthfulness and honesty and wisdom of children. Dr. Carandang is happily married to neurologist Dr. Brigido Crandang and they are the proud parents of three grown-up sons, Ricky, Rafa and Chris.
Rissa Singson-Kawpeng is currently the editor-in-chief of Kerygma, a highly regarded Catholic inspirational magazine. She started writing and editing with the publishing ministry of the Elim community in earlier years. Serving various ministries at the time, Rissa later narrowed her focus, deciding on a career in Christian publishing, mentored by a former editor of The Wall Street Journal. Her writing and editing skills were further honed in a magazine writing course at the San Francisco State University, with a former Newsweek correspondent for a professor. She is an author to, "Stories of the Impatient Bride" and "Discover Your Inner Beauty".
Dan & Nabelle Caballes are trainers and consultants of The Core Group. They provide training for the Conflict Resolution Group Foundation, from short 30-minute talks up to 40-hour (1 week long) training in Alternative Dispute Resolution (ADR) and Mediation. They are also senior trainers and facilitators at the RCW Foundation, Inc. and are program associates at the Love Institute.
As relationship experts, the couple provides Parenting and Relationship Training and Talks as well as offer Values Education to High School Students Through the "Love, Sex and Dating" Talks. They are trainors in team building, Recollections, Leadership Training, Couple-Relationship Deepening, Self-Development Trainings and Modules at Self Employed and Loving It! Currently, Dan is pursuing his Family Ministry course at the Loyola School of Theology, Ateneo de Manila.
Dan and Nabelle, have been involved in the Marriage Encounter movement for the past 18 years and have been serving as presenting couple for more than 15 of them. They have 3 grown-up children.
Harriet Hormillosa, a Marriage Counselor for over 20 years, is the President – Founder and Program Director of RCWFI (Reintegration of Care and Wholeness Foundation, Inc.) providing personal transformational seminars, commonly known as RCW or Reparenting the Child Within series. She does Counseling, Coaching, Self-Development Processes and Inner Wellness Consultancy; writes Self-care Books, Magazines and Cards. She is also founder publisher of the CARE magazine and CARE Series, the first in the Philippines on Self-care and Inner Wellness.
Ma. Isabel "Maribel" O. Sison Dionisio is a Marriage Counselor and a Parenting Consultant, and has worked for 14 years at CEFAM and 5 years at the RCW Foundation. In 2008, she set-up the Love Institute, a center focusing on parenting curriculum, marriage curriculum and marital counseling. In August 2004, Maribel launched her first book on parenting co-authored with Dr. Queena Lee Chua, entitled, "Helping our Children Do Well in School." (The 10 Successful Strategies from the Parents Best Practices Study of the Ateneo de Manila High School). In November 2006, Maribel launched the second book, "I've been Dating, now what?", co authored with Dr. Mike Asis. In February 2007, she co-authored the book, "Magaling ang Pinoy", best practices study of Public School Parent and wrote two other relationship books, "Thinking of Marriage" in 2011 and "Teen Crush" in 2012.
Allan R. Dionisio, M.D. is a Family Medicine Practitioner, a Toxicologist and an Addictions Counselor. At present, he is a Medical Consultant at PGH, both in the Department of Family Medicine and National Poison Control and Information Service of said hospital. He serves as a Faculty at the Ateneo School of Medicine, a Family Counselor and Addiction Counselor at the Center for Family Ministries and also at the Love Institute. Dr. Allan edited 2 books, Counseling Skills for Caring Physicians Volume 1 and Volume 2.
Allan and Maribel, are both graduates of the Family Ministry course from the Ateneo de Manila. They help prepare couples for marriage in the Discovery Weekend marriage preparation program and are regular monthly columnists for Metro Working Mom magazine. Allan and Maribel have been happily married for 28 years. They have 3 wonderful children, Rafael, 26, David, 24, and Angelica, 19.
Michelle Santos-Alignay is a licensed guidance counsellor who obtained her college degree in BS Psychology at the University of Santo Tomas, and her Masters Degree in Family Psychology from Miriam College. She was a Guidance Counselor for 10 years in various schools. Of late, she has been invited as a resource speaker for discussion on children, parenting and marriage at Umagang Kay Ganda TV show, and Radyo Singko's Relasyon. Recently she became a contributor for MomsToday magazine. She is currently connected with the Love Institute as an associate relationship expert. Michelle is a young mom to 2 doting children, Migo & Maia, and loving wife to Koots Alignay.
Aiza Caparas-Tabayoyong is a retired hotelier who spent almost 10 years in Hotel Marketing and Events Management. Prior to that, she took up AB Organizational Communications from the University of the Philippines, Manila. In between her hotel stints, she was a Lead Instructor at The Little Gym for 5 years where she handled Parent-child Classes for kids from 6 months to 3 years old and Pre-School Classes for kids 3-6 years old. Her interest to help children, couples and families as a whole had led her to take up courses on Pre-Marital and Marital Counselling along with Family Dynamics & Counselling at the Center for Family Ministries (CEFAM) at the Ateneo de Manila University. Currently, Aiza is pursuing her Family Ministry course at the Loyola School of Theology, Ateneo de Manila.
Since 2001, she and her husband has been active with the Marriage Preparation Foundation as a volunteer for the Discovery Weekend and as a Board Member since 2004. Since she and her marriage have been helped, she and her husband vowed to help more relationships and families become more loving and fulfilling. Right now, she is doing just that as a proud member of the "Love Team" of the Love Institute (as an associate resource person and counsellor.) Aiza has been happily married to Atty. Randall for 11 years and is a joyful mother to Ana Rocio, 6 and Roman Anton, 4.
Obet Cabrillas was born a little well off but his family went bankrupt and they spent years in poverty and hardships. Through prayers and scholarships, he and his 7 siblings were able to graduate one by one. A former hard core war freak, Obet joined the Kerygma Renewal and became: chair arranger, prayer leader, worship leader, sharer, speaker, preacher, influencer, youth leader, Feast Builder, and Spiritual Dad to thousands. He authored the popular book, " Spell Out your Love."
He is fan-father to Rob and Reese and loving husband to Joie.
Pia Nazareno-Acevedo, a Certified Life Coach, is CEO & Founder of One CORE. She has been a Performance Management Coach, Entrepreneur for the past 17 years and Relationship Expert for the past 12 years. She authored the book, "Born to be a Hero" published in 2010 for teens and single professionals. She took further studies in Coaching and Mentoring abroad and graduate studies on Family Ministries from Ateneo de Manila University.
She has been invited to give seminars and workshops in South East Asia and throughout the Philippines on Sales and Marketing, Life Management, Finding True Success in One's Life and the ABC's of Parenting. Pia continues to share basic knowledge on performance management, sales and marketing, marriage and parenting to corporate clients, schools and on GMA 7, Unang Hirit and QTV the Sweet Life with Lucy Torres-Gomez.
Pia is happily married to Jim and doting mom to three young boys, Marco, Paulo and Joshua.
Cathy Babao-Guballa is a mother, writer, children's health advocate, grief coach/educator, and an author. She writes a lifestyle column for the Philippine Daily Inquirer called Roots and Wings. She is also a lecturer at the Ateneo de Manila University and currently a consultant at Johnson and Johnson Phils.
Her grief over the death of her four-year-old son Migi—who died from an open heart surgery in 1998—turned into her inspiration to serve others. Instead of wallowing in depression, Cathy decided to channel her grief toward helping make sick children smile. Helping others get through the pain that she herself experienced has become her "ministry". She founded the Migi's Corner Foundation and embarked on the project of building playrooms for sick children in government hospitals. Cathy says she is very happy because through the Migi's Corners, the memory of her son lives on.
Recently she came out with a book, Between Loss and Forever: Filipino Mothers on the Grief Journey.
Francis J. Kong is an entrepreneur who has extensive work experiences in manufacturing and retail. He is currently President of Success Options Publishing Company and President of FunWorks Inc. a member of the Canadian based Mad Science International Group. He is also founding member and Director of Inspire Leadership Consultancy. He has a daily Radio Program called "Business Matters" and Saturday and Sunday columns in the Business Page of the Philippine Star and in several magazines. He guests in popular TV shows like Umagang Kay Ganda, Shop Talk and others.
Francis delivers more than 300 talks, training and seminars every year and is featured in many of the major business conventions and conferences both here and abroad. He is, moreover, an author of 14 books. Francis is married to the former Lilia Nolasco and has three children: Bryan, Hannah and Rachel.