Only 12 days left 'til the Philippine Homeschool Conference 2016! Here are 12 things you can do before then:
1. REGISTER
If you still haven't registered yet, don't dilly-dally anymore.  You only have 5 more days to avail of the individual rate of P1,000 and the group rate of P4,500 for each group of 5.
2. PAY
To ensure your slot, settle the fees and send the proof of payment.  You can deposit payment over the counter or conveniently pay online through fund transfer or through Paypal.
3. PLAN YOUR DAY
Registration starts at 7am.  Expo and some Kids' Activities open at that time too.  The conference will last the whole day and is filled with so many activities.  Having a plan would help you maximize your time there. 🙂
4. CHOOSE YOUR 1ST BREAKOUT SESSION (2:00 – 2:45pm)
The Ins and Outs of Homeschooling in the Philippines
Edric Mendoza
Transitioning from Brick and Mortar to Homechooling
Jenn Punzalan
Homeschooling the High School Years
Racquel Guevara
5. CHOOSE YOUR 2ND BREAKOUT SESSION (3:00 – 3:45pm)
Laying the Foundation in Preschool
Milona Barraca
Paper and Pen: How "Low Tech" Reading and Writing Benefit Students* (schedule subject to change)
Andrew Pudewa
Transitioning to College
Ivy and Bernard Marquez
6. CHOOSE YOUR 3RD BREAKOUT SESSION (4:00 – 4:45pm)
Starting Your Homeschool Journey
Donna Simpao
The Hows of Interest-Led Homeschooling
Alex Hao
Homeschooling the Special Needs Child
Jen Bellosillo
7. CHOOSE ACTIVITIES FOR YOUR KIDS
There will be various activities for kids such as calligraphy, crocheting, art classes, and indoor sports in the Expo Hall.  Kids need to be accompanied by an adult so ask someone to tag along and stay with the kids. 🙂
8. PREPARE BUDGET FOR EXPO
Now is a great time to make a list of the things you're looking for.  Prepare your budget so you can take advantage of the great discounts at the Expo.
9.  DOWNLOAD THE APP
Mobile Minds Inc. has created a conference app for HAPI. Download the "Philippine Homeschool Conference 2016" app from the Apple App Store and the Google Play Store.  The app can help you navigate through the days' program, talks, speakers, expo, and kids' activities.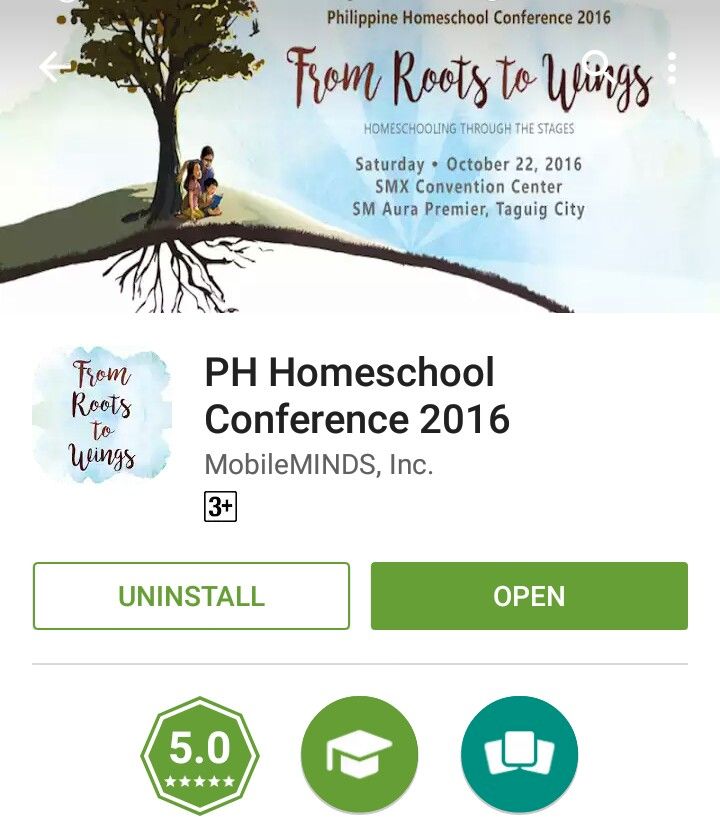 10. KEEP UPDATED
Follow the following social media accounts to get updates about the PHC 2016:
11. SPREAD THE NEWS
Who would want to keep this a secret, right?  Share away with your friends.  Invite them so they can know what homeschooling is all about.  Use the hashtags #PHC2016 and #fromrootstowingsphc on your social media posts.
12. ARRIVE WITH A HAPI HEART ON THE 22ND!