When I was growing up, it was imperative for everyone to be at the dining table come dinner time. My mother was a homemaker and always had time to prepare delectable dishes.  Since my sisters and I were in school the most part of the day, dinner time was the perfect time for the family to talk and share stories.  I'm certain those in my generation also have very fond memories of warm homecooked meals shared over conversations and laughter with the entire family.
Today's fast-paced lifestyle has altered this family tradition though.  With the cost of living skyrocketing,  most families have both father and mother working  to provide for all the family's needs.  Consequently,  dinners with the entire family has become more of a weekend affair.
Believing that cooking and eating at home is the foundation of many positive things for the family such as developing healthy food habits, strengthening family bond, and deepening family traditions, MAGGI continues to innovate products and offer services that enable homemakers to bring back the habit of cooking and eating together as a family.
One such innovative product is the recently launched MAGGI MAGIC MEALS which is an ideal solution for modern-day homemakers to provide healthy homecooked meals for the family without slaving for hours in the kitchen.
Last week, I was invited to experience a unique way of preparing dinner using Maggi Magic Meals.  Together with other bloggers, I found out what makes this new product really magical.
A MAGGI MAGIC MEALS pack comes with a Maggi Magic Recipe Mix and a Maggi Magic Cooking Bag that allows time-strapped homemakers to cook a saucy dish together with the rice IN A rice cooker.  Yup! You got that right. The "ulam" and the "kanin" can be cooked at the same time and in the same pot!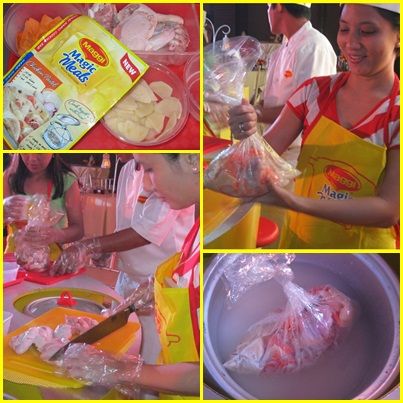 5 Simple Steps to A Delectably Saucy Filipino Dish
1. Place CHICKEN or PORK with THINLY SLICED VEGGIES
inside the MAGGI MAGIC COOKING BAG.
(Chicken has to be scored atleast 3 times per side, Pork sliced into thin strips, and veggies sliced as thin as a coin)
2. Add the MAGGI MAGIC RECIPE MIX.
3. Add 6 (six) tablespoons of WATER into the cooking bag.
(Use less water if you want a thicker sauce)
4. MASSAGE THE BAG GENTLY to dissolve the mix,
then seal the bag by tying a knot.
(Remove the air inside the bag but leave a tiny pocket
for air expansion during cooking)
5. Place the cooking bag flat on top of washed rice
then cook the rice as you normally would.
After 45 minutes, you'll have both rice and "ulam" ready to serve.
(Don't open the lid for the entire 45 minutes
to ensure that the meat is cooked thoroughly)
With such simple steps to follow, even your tweens and teens can prepare dinner themselves!  Really, even those who can't cook can cook now.  Aside from the fuss-free way of cooking, what I like about MAGGI MAGIC MEALS is that I can prepare food that is healthy in less time and in an economical method.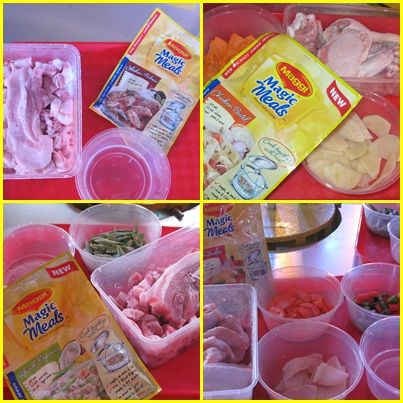 HEALTHY MEALS.  With Maggi Magic Meals,  we have the freedom to choose which vegetables and meat to use.  Since we would also be preparing the ingredients ourselves, we can be certain that the meat and veggies are all fresh.  We only used carrots and potatoes in our Chicken Pastel dish during the event but we were told that we have the option to add more veggies.  Chili can also be added to the Bicol Express dish for those who like this gata-dish really spicy.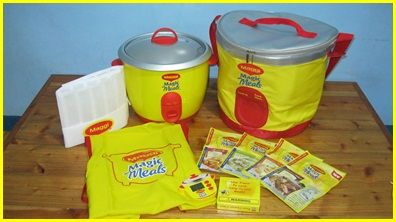 TIME-SAVING and EFFORTLESS.  There are really days when the laundry bins seem to be as high as mountains, or a deadline has to be met and you have no choice but to bring home papers to work on at night.  Maggi Magic Meals still allows you to prepare a saucy dish without requiring you to be in the kitchen for hours.  Apart from the few minutes it would take you to prepare the ingredients, the rest of the cooking is done with the rice in the rice cooker.  There's no need to check on the stew to stir or season it.  All you have to do is wait for 45 minutes and you'll have hot steaming rice and a delectable saucy dish laid out for dinner. That's 45 precious minutes you can use to help your kids with their homework, to do some house chores, or to finish your work.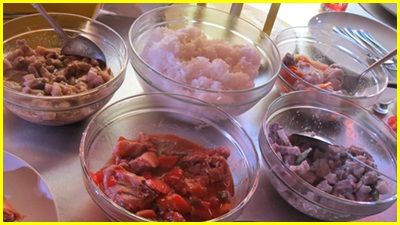 ECONOMICAL.  The Maggi Magic Recipe Mix that comes with the pack guarantees a complete and proper blend of flavors which means that you don't need to use garlic, onion and other ingredients used for sauteing. Also, Maggi Magic Meals are cooked together with the rice in the same pot so this translates to great savings on gas or electricity.  Lastly, Maggi Magic Meals makes cleaning up easy.  Aside from the chopping boards and knives used to prepare the ingredients, there are no pans and pots to wash which lets you save on water and dishwashing soap.
You don't have to be a chef to provide healthy and delicious food for your family and you don't have to spend hours in the kitchen as well.  Rediscover the magic of meals prepared at home, try all four variants of MAGGI MAGIC MEALS and surprise your loved ones with Bicol Express, Afritada, Lechon Paksiw, and Chicken Pastel.
######
MAGGI MAGIC MEALS are sold at 35 pesos per pack and are available in all branches of SM, Robinsons, Shopwise, Rustan, Waltermart, and Puregold Price Club & Jr.  They are also available in specific stores in the following areas:
GMA – Landmark, South, Llana's, Ever, Cherry, Parco, Budgetlane, Pioneer Center, Isetann, Ng Chain, Tropical, Sta. Lucia and Hi Top.
Visayas – Metro Gaisano, Gaisano Grand & Capital, and Iloilo Supermarket
Mindanao – NCCC Mall & Main, Felcris Illustre, Gaisano Mall (Davao), and Gaisano Mall(Cagayan)