A few weeks ago, we were treated to a fine lunch at Brasserie Ciçou in Annapolis Greenhills to sample the products of PAMORA Farm and to know more about their method of raising free-range chickens.  The pretty Sous Chef Summer prepared a menu that showcased the different products of PAMORA.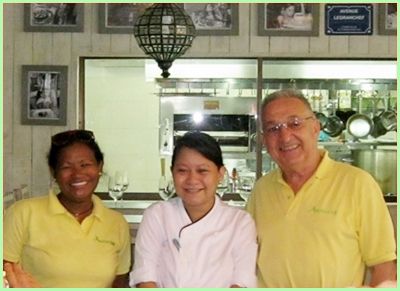 Traditional Home-made Pâtés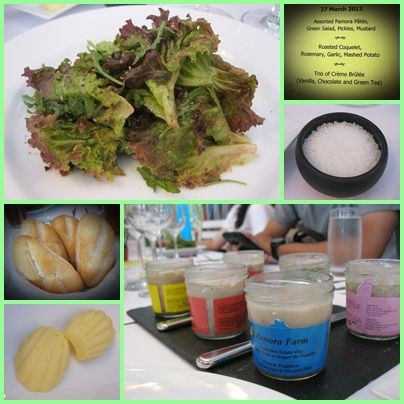 We started off with green salad drizzled with balsamic vinaigrette, pickles and mustard served with freshly baked bread and an assortment of PAMORA Pates.  These pates are manufactured the traditional way using old-fashioned recipes from the grandmother of Mr. Gerard Papillon.   Select parts of free-range chickens are seasoned with herbs, black pepper, and sea salt and blended into paste.  The paste is then sterilized in glass jars where it is preserved for a couple of years.  Pamora currently has six varieties of these home-made pates:  Chicken Liver Pâté, Chicken Breast & Liver Pâté, Chicken Gizzard Pâté, Chicken Liver & Gizzard Pâté, Chicken Breast Pâté, and Chicken Breast & Gizzard Pâté.  We were able to sample all six of them.  They all tasted great but, frankly, my untrained palate couldn't distinguish the difference in their tastes.
The REAL Free-Range Chicken
For our main course, we were served Roasted Coquelet with Mashed Potato.  The chicken meat was very tender and flavourful.  To preserve the natural taste of the PAMORA free-range spring chicken, Chef Summer used only rosemary, garlic, sea salt and pepper to season it.  The chicken was then slow-cooked for hours and then roasted to a perfect golden brown right before serving.  What's great about this chicken dish is that it isn't only delicious but is also very healthy with less fat content and absolutely none of the chemicals found in commercially raised chickens.
PAMORA prides itself in being the home of REAL FREE-RANGE chickens.  By REAL we mean that chickens roam freely in their natural environment and feed only milled yellow corn and whatever organic food they find in the field.  Unlike commercial broilers which are grown abnormally fast in 28-35 days, PAMORA free-range chickens are grown at a minimum of 70 days to optimize taste and meat quality.  To keep the chickens healthy, PAMORA farm uses herbal medicines formulated from oregano, chilli, garlic, ginger, guava leaves and other herbs.  Expert veterinary and technical consultants also regularly visit to ensure that farming methods are at par with international standards.
REAL Free-Range Chicken Eggs
To cap off our lunch, we were served with a Trio of Creme Brulee consisting of Vanilla, Chocolate, and Green Tea.  I was about to dive into the Chocolate Creme Brulee when Mr. Papillon told us to start with the Green Tea, then the Vanilla, and save the Chocolate for last.  The Chocolate's very strong taste would have drowned the taste of the other flavours.  The crème brulees were made from PAMORA's free-range chicken eggs. These are REAL brown eggs laid by REAL free-range chickens.  I'm highlighting the word REAL due to the fact that some brown eggs sold by big brands are actually laid by commercial broilers whose feeds were infused with carotene to give their eggs that brown tinge.  Tsk, tsk!
With everything I learned over lunch about the difference between commercial broilers and free-range chickens, I'll be feeding my family a lot less of the commercial ones and more of the chemical-free free-range ones.  Now I understand why my kids' pediatrician recommends native chicken and brown eggs. Next time you go to the grocery, opt for the healthier choice and get free-range chicken instead.
ABOUT PAMORA FARM
PAMORA Farm is a free-range chicken farm located in Barangay Garreta, Pidigan, Abra.  Established by the husband and wife team of Gerard PApillon and Tina MORAdos in March 2000, Pamora Farm now produces thousands of dressed free-range chicken each month to meet the demand of the growing market.  It has also become an Eco-Agri Tourism Destination that gives guests an authentic farm experience and that promotes Abra's tourist sites.  Visit http://www.pamorafarm.com to know more about what PAMORA offers.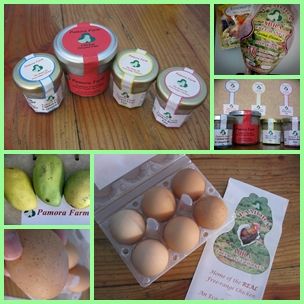 WHERE TO BUY PAMORA PRODUCTS
Pamora Chickens, Eggs, & Pates are available at Santis delicatessen, Terry Selections, Rustan's Supermarket, Shopwise, Metro Market!Market!, RFI Farm Outlet (Holy Spirit QC), Joji Berry (Crossroad 77 Mother Ignacia QC), NCCC – Davao, Champetre Restaurant (BGC), Brasserie Cicou (Greenhills), Resorts World Manila, Ilustrado Restaurant (Intramuros), El Nido Resorts, Amanpulo, Saturday Market, Ayala Alabang Village, and Golden Acres Farm, Inc.