Before we took our mom to a pilgrimage of the churches in Tagaytay last December, I had already purchased two vouchers for an overnight stay at The Residence Inn.  I didn't realize though that booking through the travel agency would take forever (oh, ok. just about half a dozen email exchanges) so we ended up staying at The Potters Ridge last December and having two rooms booked at The Residence Inn last March.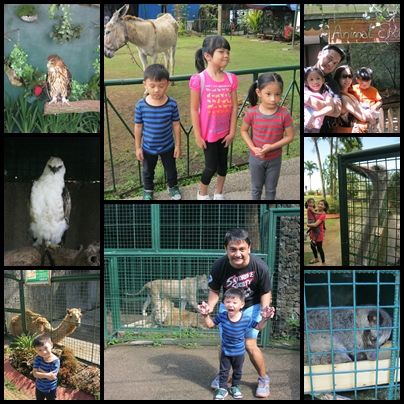 Mom and my sister couldn't join us for the March trip so we invited my friend and fellow blogger Arcee and her daughter. Check-in time was supposedly at 12noon but our rooms were already available when we arrived before 11am so we were able to settle in right then.   We were booked for two deluxe rooms for four people but were instead given the VIP suite with two connecting rooms.  Now, this may sound like a great deal but the rooms were not really that VIP-ish.  Two single beds were placed in what was supposed to be the receiving area of the suite.  So our room actually looked like a studio with an eight-seater dining table, a five-seater sofa set, two beds and a toilet & bath.  The other room had just a double bed and a toilet and bath.  The two rooms could be secured with locks and latches on both sides of the connecting door.  The last time I was at the Residence Inn was almost ten years ago and it seems that they've only started renovating rooms now.  The bathroom of the other room has new tiles and all but the cabinet isn't done yet.  Ours looked like it had never been renovated.  Both rooms had televisions but there was no cable service.  We didn't mind that much though as we were out most of the time.
We didn't want to go out into the stifling heat of the noon sun and opted to just have lunch served in our room.  This was when the huge dining table was much appreciated. Lunch consisted of crispy fried tawilis, inihaw na liempo, inihaw na pusit, sinigang na baboy, ensaladang mangga at kamatis,  and fish fillet with sautéed vegetables.  I found the sinigang na baboy a bit bland (I like mine really sour) but everything else was good.  Hubby was quite happy to have been able to eat  tawilis which he had been craving for.  I don't remember the exact bill but I do know that it was less than 2K which was not bad at all.  We actually had plenty of leftovers which would have gone to waste had they not offered to store it in the refrigerator and heat it for us for breakfast the next day.
After spending an afternoon exploring Paradizoo and taking a peek at the attractions in the newly opened Sky Fun, we had dinner at Memory Lane before going back to the Residence Inn.  Our bodies were tired and sore ( the grownups' bodies that is) after a long afternoon and we were really yearning to have a massage. I was a bit disappointed when I found out that the hotel does not have any in-house masseuse to provide massage services.  Good thing that the hotel attendant we asked offered to contact a spa outside the hotel so we can get our much needed massage.  The kids were already fast asleep when the massage therapists arrived so hubby and I were able to enjoy our massages and with our muscles relaxed, we were all able to sleep soundly.
Mornings in Tagaytay are definitely incomparable to the ones that welcome us in Manila.  There are no busy honking of horns or hot humid morning air.  It was the perfect sound of silence…well, until the kids woke up and the room was filled with their laughter – which was still a wonderful sound to wake up to!
Breakfast consisted of tapa, tocino, danggit, longganisa all served with rice and egg.  We also asked for some of our leftovers to be reheated and served.  After a filling breakfast, we toured the mini-zoo before trying out the zipline which was undoubtedly the highlight of our stay at the Residence Inn.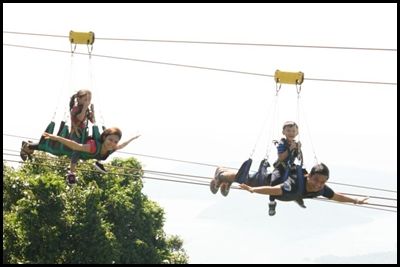 The zipline was amazing!  It was only about 500m long but we got to try it with our little kids.  Not only once, but twice!  There was something wrong with the cable car which was supposed to carry us back after we ziplined so they instead gave us a free ride on the zipline.  Of course, we had to walk back from the front of the hotel all the way to the back but we didn't mind at all.  I'd rather have two rides on the zipline than take the cable car.
OUR VERDICT
Overall, our stay at Residence Inn was fine.  The rooms we stayed in need to be renovated which I think they're scheduled to be or have started to be renovated already – must be the reason why there was no phone in our room.   I saw one room near the zoo's entrance that's almost fully renovated already.
Although the rooms have much to be improved on, the view of Taal Lake and Volcano was wonderful. The rooms were far from the main road also so we were all able to sleep peacefully without the sound of engines revving.  Another thing that makes staying at the Residence Inn is that you get to go around the zoo anytime – even past midnight.  Unfortunately, we weren't able to explore during the night  as both kids were sound asleep after a fun afternoon at Paradizoo. Families with bigger children or those spending the night with friends may find exploring the zoo at night a one-of-a-kind experience though.
All the staff were also nice and accommodating – everyone greeted you with a smile. Would we go back to the Residence Inn? Hmm…perhaps, after they've renovated all the rooms already.