P10,353.98!!!! That's how much I could save if I use an Electrolux Time Manager Washing Machine to wash all our laundry instead of sending them to the shop. What would I do with 10K?
enjoy a weekend in a Tagaytay hotel or a Subic beach resort
buy a small food kiosk and start a business
pay 2 months worth of monthly tuition installments
I could think of a dozen more things I can do with 10,000 pesos! Here's what else I could do with those savings:
Want to know how much YOU could save on laundry expenses? Check out the Electrolux Savings Calculator app. It will show you just how much you spend on your laundry weekly and how much you can save in a year if you use an Electrolux washing machine.
Click here to try the Electrolux Savings Calculator app. Remember to hit the SHARE button after you get your results. Tell your friends on Facebook what you would do with your total laundry savings, use the hashtags #DelightfulE #SimpleToSave, and get a chance to WIN your very own Electrolux washing machine. Contest ends on September 30 so JOIN NOW!!!
Saving Every Cent
The 10K savings I mentioned above is just from laundry expenses. Imagine how much more I could save by cutting down on other expenses! The bulk of our monthly expenses goes to food, transportation, and electricity. Though they all are necessities, we can still cut back on them. As an example, replacing your ceiling fans with wall mounted fans might help reduce electricity bills by a certain amount as they consume less energy. Small changes add up to big differences!
Save on Food
One of the ways we've cut down on food expenses is eating out less often. That also includes dialing 8-7000 or 8-6236 less often. I've also been buying meat, produce, and fruits from the wet market instead of the supermarket. They're not only much cheaper, they're also much fresher.
(Click here to read about my wet market adventure)
Save on Electricity
You can start saving on electricity by looking at affordable electricity plans. Search for electricity plans and listings of your area, then select accordingly. Another way to lower electric bills is to make sure that all your appliances are running in good condition. Some may think it frugal to keep an appliance for as long as it's working but if you've been using it for more than a decade it won't be running efficiently anymore and is costing you more on electricity. When buying new appliances, make sure you choose ones that are energy-efficient. Look for the Energy Star logo, inverter drives, and eco-saving features.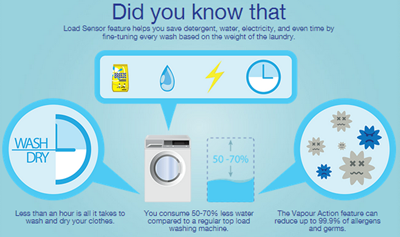 (Click here to know more about Electrolux's energy efficient washing machines)
Another way to lower energy consumption is to unplug appliances that are not in use. Before going to sleep, unplug televisions, microwave ovens, modem and wifi routers, and all other appliances you won't be using for the night. You'd be surprised how much you'd end up saving in a year.
Save on Transportation
If you're up to the challenge of riding the jeepney and LRTs, public transportation is still the cheapest way to get to your destination. It's not that comfortable though and if you're with little children, it can be quite dangerous (imagine having a little child in a cramped rush-hour MRT – he could get squished and suffocate!). One option to save on transportation costs is to carpool with co-workers. To lessen gas expenses, my husband sometimes uses his motorbike going to work. On days when he's using the car, he uses apps like Waze to determine the route with the least traffic.
More Savings, More To Share
My grandfather once told me that it's not greedy to want a comfortable life, to reap profit from a business, or to save as much as you can. By making sure that your basket is full, you would have more to share with those in need. Work hard, save for the future, and share your blessings.