Do you have children who never seem to get along with each other? Who seem to have mastered the art of war, uhm, getting on each other's nerves? If there's one parenting issue that transcends time, it has got to be sibling rivalry.  All families with multiple children deal with it in varying degrees. My parents did. Now, my husband and I are dealing with it.  It wouldn't be a surprise that many can relate to Judy Blume's The Great One and The Pain.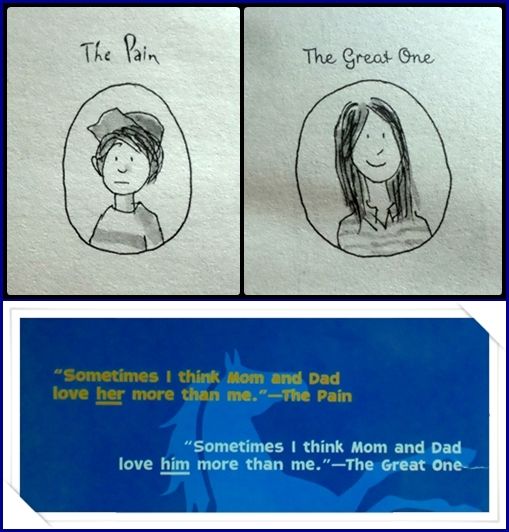 Meet the Great One and the Pain
Abigail and Jake are siblings who both feel that their parents love the other more than themselves.  Abigail thinks of her brother as "the Pain" who's always bothersome and who she wants to have nothing to do with.  Jake, on the other hand, thinks his sister is "the Great One" who always seems to do everything right in their parents' eyes.   In the book, we are able to take a peek into the mind of each sibling with their alternate narratives.   No matter how different their views are or how much they think they "dislike" each other, we are able to see that they really do care for each other.
Soupy Saturdays
Soupy Saturdays is the first among a series of books about the Great One and the Pain.  In Soupy Saturdays, we read about several stories that all take place on Saturdays.  From a failed birthday party to a trip out of town, we also find out how they conquer Jake's fear of Mr. Soupy the haircutter and Abigail's fear of riding the bike.  Like all books in the series, this one ends with Fluzzy the cat's narrative.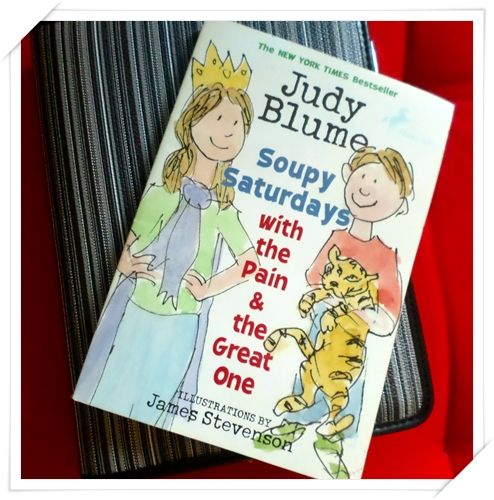 What My Kids Say
Jakei wasn't interested in reading the book yet. He's barely five years old so that's quite understandable.  Jade says she likes the book but Roald Dahl still remains her favorite.  She also thinks that Abigail and Jake are similar to her and Jakei (which is quite true as they are a bit of a know-it-all older sis and a mischievous younger bro).  However, Jade says she like Jake's character more because "he chews on Bruno's ear".  Asked if she would recommend it to other kids, she just said "Yes, because it's funny."
As with most of our books, we got our copy on sale.  She still has a couple of Roald Dahl and CS Lewis books to read but we will still be on a lookout for the other books about The Great One and The Pain. 🙂