My husband and I are not big fans of electronic toys.  Some electronic toys my toddlers have been gifted with broke easily.  While those that are of high quality are very expensive which makes them an impractical choice for families who are just making ends meet.  Two thousand pesos would after all be better spent on two cans of formula milk than on one toy.
But when I saw this toy on sale at a baby fair I attended a month ago, I knew this would be an exception.  There were only three sets on sale and all the other toys were being grabbed like crazy that I immediately put the one I was inspecting in my cart.
The Vtech Write & Learn Letter Pad is a very handy toy which can easily be taken anywhere.  The buttons on top allow you to choose which activity you'd like to do. The activities include letter writing, drawing shapes and doodle and draw.  The interactive letter pad has only the uppercase letters.  Whenever a letter is pressed, the letter name is said aloud and shown on the tiny screen below the letter pad.  There is a magic slate at the bottom for practice writing. A wide grip orange pen is attached to the pad by a string so there's no need to worry about misplacing it.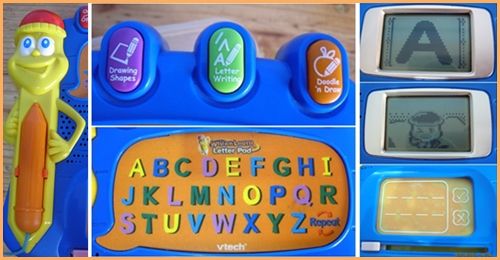 I'm so glad I bought it coz Jade loves it so! Whenever I need to do a chore, I give this to her and it keeps her entertained til I'm able to play with her again.
In the month that she has had this toy,  she has already had significant improvement in letter recognition. It is also a great first step in phonics as each letter sound is also played aloud.
As for drawing and writing, this toy is not highly recommended for that.  Whatever you draw on the tablet, it will say "a stroke of genius", "that was good practice", "that was beautiful" or "practice makes perfect" regardless of how different your drawing or writing is from what was being illustrated.  It is great though in encouraging my two-year-old Jade to scribble and write.