It may sound shocking but 80% of students who graduate from public High Schools are unqualified for college. You would think that those in private schools fare much better and receive more quality education but, surprisingly, they too have difficulties in school and some also graduate without enough academic competency to fare well in college. It's no wonder that some students think that the only thing that they can do is buy an analytical essay or whatever piece of work they need to help them pass school and be qualified for college.
Fear of math, aversion to reading, complaints of too much homework, and failing marks are all too familiar in any school setting. Most parents criticize the school curriculum or blame their children for not working hard enough. What they need to understand though is that most students are unable to cope with their lessons mainly because they lack a proper foundation for basic mathematical concepts and reading comprehension skills. This is what Tutoring Club addresses – to fill in the learning gaps which will ensure that a student will be able to cope with his current, more complex lessons.

Mastery of Concepts
At Tutoring Club, a student must master one skill before moving on to the next skill. This ensures that he has a solid foundation of mathematical concepts and reading skills that will enable him to tackle more complex lessons with ease. A mastery-based Learning Plan is developed to address a child's identified skill gaps and to eventually develop new skills until he is at par with his current grade level. This individualized Learning Plan is based on the results of the child's Skills Assessment which pinpoints his deficiencies.
Having been a tutor also for several years now, I am very familiar with cases where students reach High School and still stagger with fractions and decimals which they apparently have "forgotten" already. We then end up working doubly hard to re-learn what they have forgotten while coping with their current school lessons. Now, if I had the technology that Tutoring Club employs in generating worksheets, I'd have half my work cut out for me.
Advanced Educational Technology
All learning plans and worksheets are computer-generated and each one tailor-fit to meet the goals of each student. So, unlike in traditional tutoring where a child works with only one tutor who monitors his progress, the Tutoring Club program is not tutor-dependent. When a student comes in, any of their professional tutors available can get his portfolio and check the computer for the student's learning objective and worksheets for that day. This works in a similar way to online tutoring through things like online courses Australia, where the work is easily accessible online. This computerized system also makes continual assessment of a student's progress possible, I'm sure Miami tutoring services also use systems like this too!
This is the first time I've heard of such a system and am amazed at how advanced it is. I would love to have a computer that assesses a student's performance and prepares a lesson plan based on the results.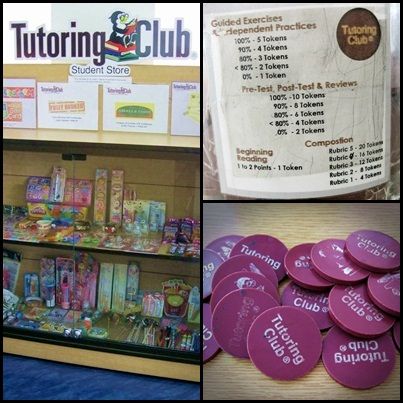 Merit System
A student's diligence is recognized and good performance is rewarded with tokens that students can use to purchase items from the Tutoring Club store. This form of merit system encourages students to work harder at reaching their goal and develops self-esteem.
Corporate Social Responsibility
Knowing that there are students in public schools who can benefit greatly from their program, the Tutoring Club has tied up with Dep-Ed's Adopt-A-School program and has set up a center at the Kamuning Elementary School. The children enrolled in the program are provided with the same materials and given the same high-quality efficient tutoring that other students receive. You can take part in changing a student's life by being his sponsor. All it takes is just Php500 per month.
Tutoring Club is the only tutoring center that guarantees your child will improve at least one grade level in 32 hours. It is also the only tutoring center that provides computer-generated individualized Learning Plans to ensure that your child's skill gaps are remedied and new skills are developed. The fees may sound quite steep since they compute it on a per program basis, but if computed on an hourly basis, it is actually the same as what other tutoring centers charge. My little ones are still too young to be enrolled in their program but if they do someday need help with their academics, I would consider enrolling them in the Tutoring Club.
######


807-8282 : Alabang
856-2517 : Bonifacio High Street
856-6099 : Pasong Tamo Extension
706-4579 : Fun Ranch
721-8867 : Greenhills
896-2211 : Rockwell
743-9093 : Sta. Mesa Heights
(32)238-3655 : Banilad Town Center Cebu