I was unable to post our activities the past couple of weeks due to our erratic schedule. We've had bouts with fever, cough and colds. I was laden with work due to periodical tests which necessitated more hours of tutorials. Blah, blah, blah… Actually, I just haven't been managing my time well.
Anyway, we did manage to still have our morning lessons though we were unable to stick to our weekly schedule. But then, it's just playschool after all so we really shouldn't mind a couple of missed sessions.
So, here's how our week month turned out:
We learned to sort bugs from flowers.
We had fun creating patterns using cute bugs.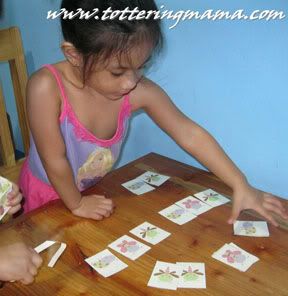 We played with a dice…er, we played with a box.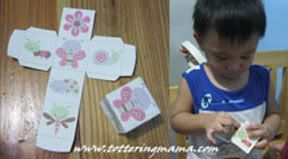 We added new words to our vocabulary.

We made our own books and had fun reading them.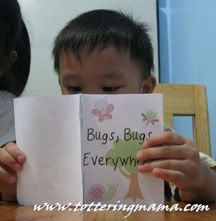 For our arts and crafts, we made lady bugs and caterpillars from used egg trays and plastic bowls. We also made handprint butterflies again.  Now our wall is riddled with insects!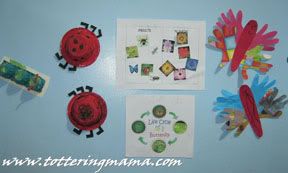 If you would like to use the same theme with your little ones, here are the materials we used:
Our next theme is Pond Life so we'll be learning about frogs, ducks, and other things we see in a pond.  Come visit PLAYhouse preSCHOOL again for more fun ideas for your little ones!