Keratosis pilaris. Another -is to add to my long list. Contact dermatitis, perioral dermatitis, seborrheic dermatitis, allergic rhinitis, hand osteoarthritis. Then there's the occasional tamaditis and the seasonal neurosis.
With a long history of dermatitis and other allergies, I paid no special attention to the itchy rash that appeared on my back. I dismissed it as prickly heat which I was prone to suffer from during the hot days of summer. However, when a couple of months had passed without getting any relief or seeing any improvement, I finally decided to see my dermatologist.
Keratosis Pilaris, Causes, Treatment
The rough patches were mostly on my back so I really could not see them properly. They would often feel itchy when the weather was hot which was why I thought they were prickly heat. But sometimes it was to do with hormonal itchy skin, which I only recently found out. Unlike prickly heat though, the small bumps were not reddish.
When my dermatologist examined the rash, she explained that I had a condition called "chicken skin" or keratosis pilaris. Although this is harmless and could be easily addressed with topical medication, it is, unfortunately, a condition I would have to deal with the rest of my life.
Keratosis pilaris is a common skin condition characterized by small hard bumps that are often light-colored, hence, the term chicken skin. They make your skin feel like sandpaper and may appear on your back, upper arms, thighs, buttocks, and face.
Chicken skin is formed when a buildup of keratin blocks the opening of a hair follicle. Those with dry skin are usually more likely to have keratosis pilaris. Those with atopic dermatitis (*raises hands*) are also prone to having this skin condition.
My dermatologist prescribed fluocinolone lotion to be applied to affected area twice a day for no more than 7 days. My skin showed significant improvement on the third day. On the 5th day, my skin was smooth and soft already.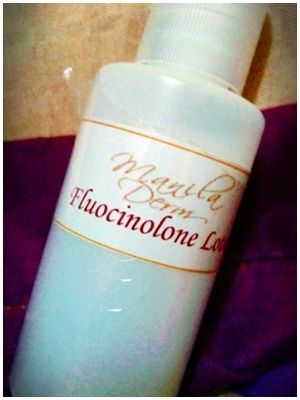 Aside from fluocinolone, my dermatologist also told me to avoid using fabric conditioners on our clothes. She recommended that I shift to cleansers formulated for sensitive skin. She also stressed the importance of keeping my skin moisturized.
Skin Care for Mama's Sensitive Skin
Even before going to the dermatologist, I had already tried Cetaphil Restoraderm and stopped using all other soaps at home. When I told her about this, she approved and said that it was a great choice and I should continue using it.
Cetaphil Restoraderm(~845 pesos at Mercury Drug) is a skin restoring body wash that's formulated for very dry itchy skin. It's soap-free, hypoallergenic, fragrance-free, and is gentle enough even on baby's skin. It contains Shea Butter (butyrospermum parkii butter) that moisturizes the skin.
Of course, it wasn't enough to address my skin problems but I love how it moisturizes my skin so that I can do without lotion during the day when summer heat is at its warmest. At night, though, I make sure to slather on Aveeno Creamy Moisturizing Oil.
Aveeno Active Naturals Creamy Moisturizing Oil (575.75 pesos at SM) is my current favorite! My kids love putting it on my arms and legs (makes me feel so pampered every single time!) and say it smells like Playdoh (which is probably why they love "playing" with it). My hubby loves it scent too. Most importantly, it relieves my itchy and dry skin. This Aveeno variant has skin-soothing natural colloidal oatmeal and skin moisturizing pure oat oil.
Since I fell in love with the moisturizing oil, I decided to try the Aveeno Active Naturals Moisturizing Bar (189.75 pesos at SM) too. This soap-free cleanser also contains natural colloidal oatmeal that gently cleanses and soothes dry skin. It leaves my skin moisturized so I can do without lotion in the morning. It's fragrance-free but during the first couple of uses had a faint scent that reminded me of a grain store. It takes some getting used to if you love fragrant soaps. Aside from that faint scent of grain, I'm also loving this Aveeno. It costs less than a third of the price of Cetaphil Restoraderm which makes it more budget-friendly. The only downside would have to be its availability. Only select supermarkets and drugstores carry the Aveeno Active Naturals brand. I bought mine from SM Supermarket.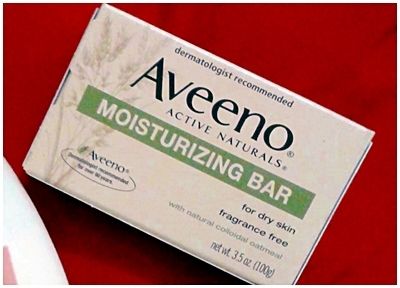 I grew up with Cetaphil and have been loyal to the brand for years now but I must say that I'm really loving Aveeno Active Naturals. They will certainly now be part of my skincare regimen.