Do you have a Sophia the First or any other Disney princess fan in the house? Here's a simple craft you can do at home to make princess play time more fun. AND, wait for it, it costs less than 30 pesos!
This craft was not one of our spur of the moment crafts.  The little girl had this planned since yesterday when she saw the "gems" in a fabric shop in the local market.  I was buying some extra clasps for her skirt when she asked if she could get some of the purple sew-on gems. She said that she absolutely needed them to make her crown and her necklace.  She asked for two big oval gems and six small diamond ones.  The gems and a meter-long of lace cost just 29 pesos in all.
When we got home, I had chores to do and wasn't able to help her gather materials for her crafts.  What she did instead was "design" her Sophia the first crown and necklace.  The collage below shows her sketch of the accessories and dress and her finished crown and necklace.
Today, we were able to make all the stuff she needed for her Sophia the First play day.  I used one brown paper bag to make her crown.  The bottom part of the crown consists of three strips cut from the bag.  Jade colored it yellow and glued on the gems.  The other big gem was attached to the purple lace with tape.  When the glue was all dry, she put on her old purple dress (it was actually two sizes too small already) and got ready for her Royal play date with her brother Jakei. 🙂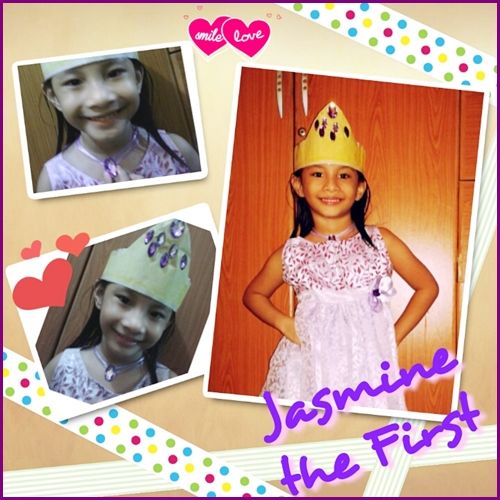 Care to share how you've used simple items at home to make your kids' playtime more fun?