Once again our schedule has gone haywire and our arts and crafts day was held on Friday instead.  The toddlers had been begging to paint for weeks now so we all trooped to the bookstore last Thursday to buy some paint and a couple of new paintbrushes. Oh, wait! That was the reason we moved our Wonderful World of Wednesday to Friday. We had no paint!
Armed with fresh paint and new brushes, we were all set to create our own garden animals from bits and pieces of materials scattered in the house.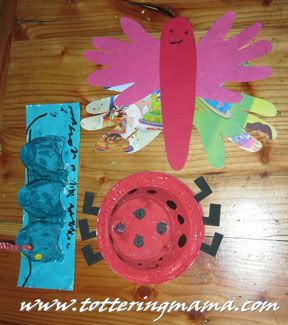 First on our insect collection were Handprint Butterflies which we had already done a few weeks ago.  Since, this is the second time we did the activity, the toddlers were already familiar with the procedure. Jakei didn't make much of a fuss this time and patiently waited for his handprints to be cut out.
Next on our list were Ladybugs made from plastic bowls.  We used the following materials for our ladybugs:
Plastic party bowls (left over from their birthday party a few months ago)

Board paper or any cardboard

Sandpaper

Red tempera paint

Foam tape (double adhesive)

Black markers
The toddlers painted the outside of the bowls with red paint and we set these aside to dry.  In the meantime, we cut out circles from an old red folder and glued the legs of the ladybugs on them.  We cut out L-shapes from sandpaper and used them for the legs.  We then used foam tape to stick the circle cutouts on top of the bowls.  When the paint was dry, we drew faces and black circles on them to complete the details of our ladybugs.
Last on our insect collection was the caterpillar.  By this time, paint had lost its allure on Jakei and the little boy just kept running around the room.  Thus, only one caterpillar adorns our wall now.  To make our caterpillar, we used:
Empty egg tray (washed with soap and dried thoroughly)

Green and yellow tempera paint

Fuzzy wires (we got red and white stripes)

Fasteners (you can get colorful ones from Hallmark Scrapbooking stations)

Cardboard

Foam tape
I cut the bottom part of the egg tray into four sections and  attached each one on cardboard pieces using foam tape.  The toddlers painted the egg tray with green and yellow paint.  I then inserted fuzzy wires for the caterpillar's antenna and fasteners for the eyes. Ta-da! We had a caterpillar!
Surprisingly, we didn't make too much of a mess! This is also our first time to use tempera paint and it certainly won't be the last.  The paint washed off easily from the toddlers hands and did not stain their clothes.  I guess this means we can have more painting activities from now on.