Yey! I'm finally able to join Mommy Moments again. I did miss going through wonderful entries of other moms. The themes for September are all tips that moms can share with one another. I definitely need to join this as I'm sure to learn valuable tips from you Moms.
I'm no expert in this field but we do our best to teach the toddlers the value of money. Young as they are, the toddlers are already being taught the concept of money. We tell them how we work to earn money, how we can invest it in something like this bobcat hnt miner ready to ship option to increase our income, how to spend it wisely, and how to save some money for the rainy days.
We explain to them how we, as their parents, work hard to earn money so we would have food, shelter, and other basic needs. When they are a bit older and are capable of doing chores, we plan on giving them "salaries" for chores they do. We'll be giving them three money jars each to allocate their "salaries": One for savings, one for sharing, and one for spending. Hopefully, this would help them be more responsible in handling money when they are older.
When we go out, we allow them to pay for purchases made. This shows them that money is needed to buy the things that we want and need. We also stress that "needs" come before "wants." Thankfully, they do not make a scene when told that we can't get something they want because we have no more money for it.
We take them to the bank when we deposit funds in their accounts. This practice of saving we wish for them to keep until they are grown up.
We really don't want them to grow up thinking that money is the most important thing in the life, but we do want to teach them to be responsible adults capable of providing for their own needs. Now I look forward to more ideas on how to teach my little ones to save from the Moms who joined this week's Mommy Moments.
Come hop through their blogs with me through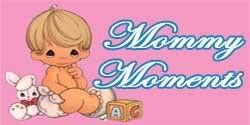 .