My toddlers love to read books.  They have easy access to their bookshelf and are allowed to choose the book they want to read.  My only condition for them is to put the book back on the shelf before getting another one.
My best friend gifted Jade with a Little Blessings book.  Upon seeing the book cover, she immediately exclaimed, "It's my favorite book!"  I presume it is because she can relate to the little girl pictured in the cover. They are after all similar in many ways. 

The book written by Melody Carlson is about a little girl who discovers that she can do new things; things that big kids can do.  She can fix her bed, get dressed, eat by herself, brush her teeth, comb her hair, fiddle, take care of her fish, bake cookies, pack away her toys, and so much more. 
Each glossy page is also filled with pictures of things we see at home.  Elena Kucharik's illustration delights my toddlers.  These pictures are great for vocabulary building also.  Sometimes, I name objects and ask the toddlers to look for them in the page.  Other times, I let them point at objects and we name them together.
We have read this book countless of times, but the toddlers never tire of listening to the story.  Jade still declares that it is her "most favorite book ever."  It has also helped encourage Jade to be more independent.  Whenever she does something that Zoe can do, she says, "Like Zoe! Mama, I'm like Zoe!"  It's not only Jade who loves the book.  Jakei loves it also.  He loves looking at the pictures and naming them.
Since the toddlers love this book so much, we also want to get a copy "I'm Jack!", another book in the series.  I still can't find any in the local bookstores though.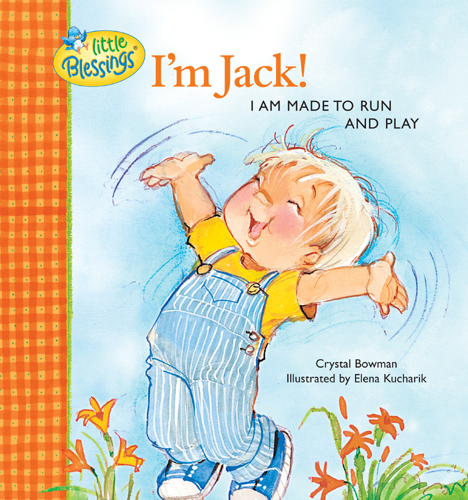 I'm Jack! I Am Made to Run and Play (Little Blessings Picture Books.)