Eight days left before Christmas!  Where did the time go?!  Although some have already finished wrapping gifts and planning for Noche Buena, there are still many (like me!) who are barely done with Christmas shopping and have no menu for Christmas Eve dinner yet.  And there's only one week left!  That's holiday cramming at its finest!
Though we're all in a frenzy, there's still much to be thankful for.  We have been blessed enough to have resources to buy gifts and to enjoy the holidays with family and friends.  As we shop for our loved ones, let's also remember those who have are less privileged.
SM Supermalls makes sharing easier for us through the SM Christmas Bears of Joy project.  Now on its fourth year, SM Bears of Joy continues to offer shoppers the opportunity to share their blessings and bring smiles to children's faces despite their busy holiday scheds.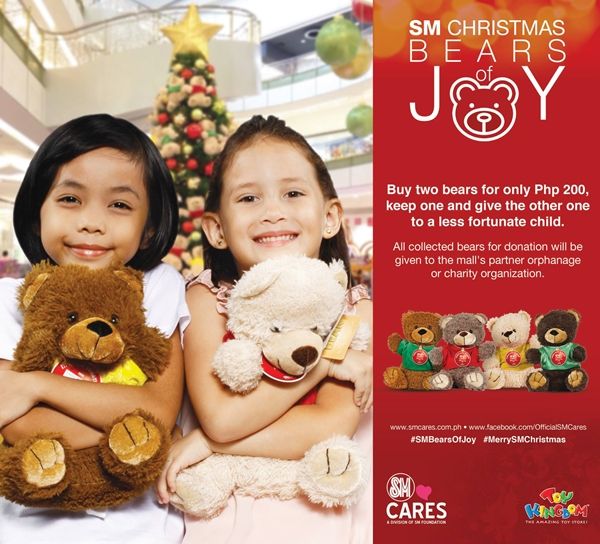 While you're shopping at your favorite SM Supermall, visit a Bears of Joys booth and get your own SM Bear of Joy. Each bear you buy has a "twin" which will be donated to an orphan or a less fortunate child.  With just P200.00, you get two bears – one to keep and one to share.
Before we get caught up in countless family gatherings and social events this season, let's not forget that the true meaning of Christmas is sharing God's love with others. Share your blessings and touch someone's heart.  
 Spread the word to make more children smile this Christmas.  
###
To know more about SM Cares, please visit www.smcares.com.ph or www.facebook.com/OfficialSMCares.