Drypers WeeWee Dry understands how much love we put in everything we do for our children.  Aside from providing us Moms with reliable and high quality diapers that keep our baby's skin cool and fresh,  Drypers Philippines continues to come up with innovative ideas to help us in our parenting journey.  One of these is a great interactive website, http://www.drypers.com.ph, that offers tips and advice for every stage of child development.  Found here also is the Drypers Baby Club community where parents can share their personal experiences and interact with other parents.
Recently,  Drypers Philippines gave away "Put On Love" baby shirts bundled with Drypers WeeWee Dry Packs to encourage parents to be more nurturing and more fastidious in choosing the right baby products for the wee ones.  They sent my little ones a couple of these cute baby shirts and are giving away some to other moms like me.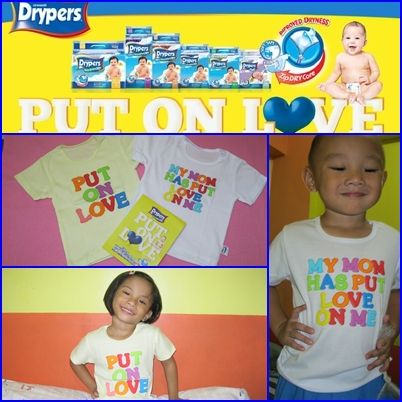 My little ones sure look adorable in these shirts!  Don't you think your  little ones would look adorable in these shirts, too?  Well, here's good news for you – Drypers Philippines is giving away five (5) "Put On Love" baby shirts to five lucky readers of this blog!
Just follow the easy-peasy instructions in the rafflecopter form below to win one of the five cute baby shirts.  I may even throw a surprise for one of the lucky winners!  You have only until May 1 to join so enter the giveaway NOW.
CONGRATULATIONS TO THE WINNERS! The first five names drawn will get a PUT ON LOVE BABY SHIRTS from DRYPERS PHILIPPINES. The sixth winner gets a Drypers WeeWee Dry Pack from The Tottering Mama. 😀
If you have not received any email from me, kindly send your shipping details to ethursdee(at)yahoo(dot)com.